Mayor Bill de Blasio Was Booed While Giving NYPD Graduation Speech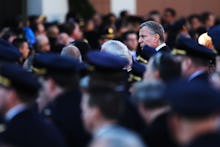 When it comes to expressing strong feelings about New York City Mayor Bill de Blasio, the city's police force doesn't leave much to the imagination. 
Just days after hundreds of New York Police Department officers turned their backs on de Blasio at the funeral of slain officer Rafael Ramos, a group of newly minted officers showered the mayor with boos at an NYPD graduation ceremony on Monday. 
"Let's be honest about the realities of our society," de Blasio told the group of 884 new officers, reports CBS. "You'll confront all the problems that plague our society, problems that you didn't create." Immediately after he made the remark, somebody in the crowd apparently shouted, "You did!" The outcry prompted a round of applause.
The boos start around the 30:15 mark:
CBS also reported that a few audience members turned their backs on the mayor, though most appeared to applaud politely at the end of his speech — a fact supported by some reporters in the audience: 
Despite the resounding jeers, the commotion was also peppered with applause and cheering. For all of the negative press that the relationship between the mayor and the NYPD has received lately, the response to de Blasio's speech illustrates that the dynamic is more complex than it may appear.
The tension deepened after the shooting of officers Ramos and Wenjian Liu, who were killed while on duty in Brooklyn on Dec. 20. Many in the police community, including Patrolmen's Benevolent Association president Patrick Lynch, have pointed fingers at de Blasio for the attack, accusing him of having "blood on [his] hands."
That uneasy relationship crescendoed on Saturday when hundreds of officers turned their backs on the mayor, as well as the day before, when a plane with the message "De Blasio, Our Backs Have Turned to You" flew above the Hudson Valley in New York. 
Police Commissioner Bill Bratton, for his part, has condemned the behavior. During an appearance on CBS' "Face the Nation," Bratton called the behavior "inappropriate."  
"I think it was very inappropriate at that event," Bratton said. "That funeral was held to honor Officer Ramos, and to bring politics or to bring issues into that event, I think was very inappropriate, and I do not support it. He is the mayor of New York. ... It was inappropriate, and at the same time, it is reflective, unfortunately, of the feelings of some of our officers."
In response to the boos at Monday's ceremony, de Blasio's team apparently sent out an email highlighting the fact that former New York City Mayor Michael Bloomberg also received a negative response in 2003: