Indie Artist Accidentally Raises Over $10,000 For Charity in Stinkiest Way Possible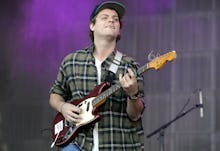 Indie rock star Mac DeMarco didn't expect much when he put a pair of his old, smelly, torn-up Vans for sale on eBay.
"Will anyone buy an old stinky pair of shoes? I don't know. lets wait and see," he wrote on the item's description.
With the bidding starting at 99 cents, DeMarco promised to donate the money to the Willie Mae Rock Camp for Girls, a "nonprofit music and mentoring program dedicated to the empowerment of girls and women."
A few hours in, donations grew rapidly. DeMarco did his part, keeping fans interested by chatting them up on the eBay message boards. He answered questions about the shoes like "Ever stepped on dog shit in these?" and "Ever kick a hippie with these bad boys on?"
"Don't really kick hippies that much. definitely kicked it with some hippies in these," DeMarco replied.
After 12 hours of bidding, the price has soared to over $10,100 — with six days still left. However much it grows from here, DeMarco's smelly red Vans will offer the charity an incredible start to 2015.
The donation will put the pepperoni-flavored icing on what has already been a sweet year for DeMarco and his shoes. DeMarco performed in them at over 50 tour dates around the world, according to the eBay description. They clearly took a beating, and as video footage from his numerous concerts evinces, he narrowly avoided them having snatched off his feet while crowd surfing many times.
DeMarco also released the album Salad Days, which appeared on nearly every music publication's end-of-year list for top albums. It was shortlisted for a Polaris Music Prize, a Canadian music award based on "artistic integrity" rather than sales or professional affiliation. DeMarco was also the subject of a hilarious half-hour Pitchfork documentary entitled "The Pepperoni Playboy."