One City Bought These Cages to Scare Away Homeless People in the Winter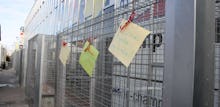 The news: The French town of Angoulême had a harsh message for anyone looking to take a moment to rest in public this holiday season: You're not wanted here.
RFI reports that Angoulême's "right-leaning" Union for a Popular Movement (UMP) local council ordered the installation of metal cages over public benches to prevent the homeless from using them. The fences were installed on Christmas Eve. While Jean Guiton, the deputy in charge of security, insisted that the timing was a coincidence, locals were quick to cry foul on what seemed like a transparent attempt to drive off the city's homeless.
Former Angoulême MP Guillaume Garot told Agence France-Presse that the benches were "shameful," adding that "This isn't my France."
The response: After a public backlash, the UMP-dominated council has apparently conceded and announced that the benches will be re-opened. But eventually they will likely be filled in with stones to create gabions, eliminating the area's seating entirely. Mayor Xavier Bonnefont told AFP that a final decision will be forthcoming.
In the meantime, French Twitter was blowing up:
A growing problem: While activists fight the cages in France, homeless people are under attack internationally thanks to a growing trend of laws that criminalize homelessness. Earlier this year in London, a privately owned apartment complex installed metal spikes on the ground to deter homeless loiterers, while other such "defensive architecture" is prevalent in cities from New York to Madrid. In San Francisco, managers at the Bill Graham Civic Auditorium exercised sonic warfare to drive off people looking for a place to sleep.
As anti-homeless discrimination persists, many are left with few options. A study by the National Law Center on Homelessness and Poverty concluded that anti-homeless laws criminalizing everything from sitting on the street to handing out food donations were on the rise in America, with more than half of U.S. cities surveyed prohibiting loitering on sidewalks. The same study concluded that roughly 12.8% of the  "low-cost housing" in the U.S. had disappeared since 2001. According to Common Dreams, 21 U.S. cities now ban food-sharing with the homeless. In one case, a 90-year-old Fort Lauderdale, Florida, man was arrested in November after refusing to comply with an ordinance designed to prohibit charitable food-sharing programs.
Considering studies have repeatedly demonstrated providing the homeless with low-cost housing is both a humane and cost-efficient solution than hounding them with laws designed to drive them out of town, there's no excuse for this kind of treatment. Especially not during the freezing holiday season, when the less fortunate often need help the most.