The Washington Redskins' Nightmare Season Just Ended in the Perfect Way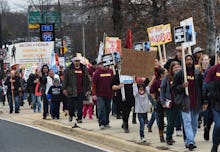 It's been a rocky year for Dan Snyder.
As the Washington Redskins put the final touches on a truly embarrassing season on Sunday, the team owner saw his franchise beset by one of the largest demonstrations to ever take place at its home stadium.
The subject was the team name. According to the Washington Post, more than 100 indigenous activists and allies gathered outside FedEx Field to protest the organization's use of a racial slur as its avatar and moniker.
"We are people," the crowd reportedly chanted, "not your mascots."
The Redskins lost, somewhat ironically, to the Dallas Cowboys in a 44-17 blowout. But for the past year, the team's dismal play has taken a backseat to debates around its controversial iconography.
Perhaps most famous was this September segment from The Daily Show, where a group of Native activists squared off against four "keep the name" proponents:
The takeaway was clear: The Redskins name is dated, offensive, mired in hypocrisy and stubbornly resistant to reevaluation, despite many other changes the franchise has undergone rather seamlessly over the past few decades.
But what's really at stake? Since at least 1968, advocacy groups like the National Congress of American Indians have run nationwide campaigns to end the use of stereotypes "in print and other media." These efforts have been largely successful, notably with high schools and colleges that had appropriated Native American iconography.
But professional franchises have been less yielding. Teams like the Cleveland Indians, with its inflammatory Chief Wahoo mascot, and the Washington Redskins staunchly insist on keeping with "tradition," maintaining their names and mascots even in the face of growing backlash and education.
According to studies, this insistence has serious consequences. The Center for American Progress released a report in July linking the proliferation of this imagery to significantly "lower self-esteem and mental health" among Native American adolescents.
A slew of other challenges and disparities already facing indigenous communities compounds the issue. Disproportionately high rates of poverty, depression, suicide and substance abuse remain a devastating legacy of centuries of government violence, oppression and neglect.
Meanwhile, in March, Snyder famously tried to appease his critics by embarking on a nationwide tour of 26 tribal reservations, which he ended by announcing his intentions to start a philanthropic fund to aid struggling Native American communities.
It was a transparent effort to many. "What an insult," activist Suzan Shown Harjo told Think Progress. "Is he really going to put up $50 million of his own money for a suicide prevention program? Does he understand that part of teenage suicides ... comes from low self-esteem and part of that comes from negative imaging, of which his franchise is one of the worst offenders?"
This year alone, activists have staged multiple rallies and prominent social media campaigns directed at changing the name. The United Nations has openly condemned it. And the U.S. Patent and Trademark Office revoked multiple patents under the name because federal law prohibits trademarking racial slurs.
Yet despite it all, Snyder insists that he will "never change" the name. He does so at his own peril. Considering the growing mobilization around this issue, if he's hoping for a less tumultuous season in 2015, he's in for a very unpleasant surprise. Because this doesn't look to be going away anytime soon.
h/t Think Progress