Top Congressional Republican Admits He Spoke at a White Supremacy Conference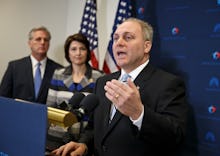 One of the most powerful Republicans in Congress admitted Monday to appearing as a speaker at a meeting of white supremacist leaders in 2002, when he was a Louisiana state senator.
The office of House Majority Whip Rep. Steve Scalise, who enters 2015 as one of Speaker John Boehner's top deputies, confirmed a CenLamar report that he attended the European-American Unity and Rights Organization (EURO) gathering at a Best Western Hotel in the suburbs of New Orleans.
EURO was founded by high-profile former Ku Klux Klan leader and former presidential candidate David Duke, who, according to the Southern Poverty Law Center, uses the group to "publicize [his] writing and sell his books." 
The group also operates whitecvilrights.com, which published an essay two years before Scalise's appearance stating that "the Jewish media and Jews in general will attack us for wanting to restore White America. The Jews are the enemy of the White race, and they are largely responsible for the 'browning' of America. The Jews want to rule over a multi-racial brown America that is too ignorant to ever rebel against them."
In response to the initial report, Scalise spokeswoman Moira Bagley defended the congressman without denying that he addressed the group. 
"Throughout his career in public service, Mr. Scalise has spoken to hundreds of different groups with a broad range of viewpoints," Bagley said in a statement. "In every case, he was building support for his policies, not the other way around. In 2002, he made himself available to anyone who wanted to hear his proposal to eliminate slush funds that wasted millions of taxpayer dollars as well as his opposition to a proposed tax increase on middle-class families.
"He has never been affiliated with the abhorrent group in question. The hate-fueled ignorance and intolerance that group projects is in stark contradiction to what Mr. Scalise believes and practices as a father, a husband, and a devoted Catholic." 
Scalise was vaulted into the House Republican leadership by a chain of events set off by the ouster of Majority Leader Eric Cantor. The Louisiana conservative will enter the new Congress as the third-ranked member of his caucus.
There's no word yet from Boehner on whether this ugly revelation will cost Scalise his job in the leadership. Either way, it's an early hurdle for Republican lawmakers who are hoping for a smoothe transition into the new Congress, where they will control both the House and Senate for the first time in nearly a decade.
Update: Scalise spoke about the incident for the first time today, saying in a statement: "Twelve years ago, I spoke to many different Louisiana groups as a state representative, trying to build support for legislation that focused on cutting wasteful state spending, eliminating government corruption, and stopping tax hikes. One of the many groups that I spoke to regarding this critical legislation was a group whose views I wholeheartedly condemn. It was a mistake I regret, and I emphatically oppose the divisive racial and religious views groups like these hold. I am very disappointed that anyone would try to infer otherwise for political gain. As a Catholic, these groups hold views that are vehemently opposed to my own personal faith, and I reject that kind of hateful bigotry. Those who know me best know I have always been passionate about helping, serving, and fighting for every family that I represent. And I will continue to do so."
Boehner, meanwhile, is standing by his deputy. The speaker's office released also released a statement Tuesday, saying, "More than a decade ago, Representative Scalise made an error in judgment, and he was right to acknowledge it was wrong and inappropriate.  Like many of my colleagues on both sides of the aisle, I know Steve to be a man of high integrity and good character.  He has my full confidence as our Whip, and he will continue to do great and important work for all Americans."