Russians Are Instagramming Pictures of Caviar for the Worst Possible Reason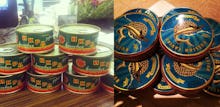 As the Russian economy struggles to recover following the crash of the ruble and skyrocketing inflation, rising food prices and the threat of a major recession have everyone on edge. Well, maybe not everyone. 
Some well-to-do Russians have started a new trend of posting photos of massive mounds of caviar with the flippant caption #whatcrisis. Others, Business Insider reports, are tagged as "#FallOfTheRuble." 
The posts are clearly intended as both a sign of defiance against the Western economic sanctions that have directly contributed to the current crisis, as well as flaunt apparent wealth in the face of widespread adversity. 
According to the Guardian, the collapsing Russian economy has led to a dramatic drop in the country's purchasing power of foreign goods in the past year. President Vladimir Putin has reportedly even instituted a price cap on commercial vodka sales to improve Russian morale and prevent citizens from turning to black-market alcohol.
The economic troubles may just be the start of a prolonged economic troubles for Putin and his country. "Everything is pointing toward recession, and it's not a big surprise that we're already seeing negative numbers now," Nordea Bank AB analyst Anders Svendsen told Bloomberg. "If we get a first quarter where oil prices continue to drop, then we'll have much bigger pressure on the Russian economy and the ruble than what we're already seeing." 
Bloomberg also reported that Standard & Poor's has predicted a 50% chance that Russia's credit rating will be brought below investment grade within three months, thanks to the "rapid deterioration of Russia's monetary flexibility and the impact of the weakening economy on its financial system."
As the slide continues, the New York Observer writes that resentment of American involvement in the sanctions is increasing. One central Moscow shopping mall even put American flag doormats at entrances to show growing discontent with U.S. policy.
As what appears to be Russia's very own version of the "Rich Kids of Instagram" continues to indulge themselves, for the average Russian, eating whole cans of top-grade caviar is sure to become an even more inaccessible luxury. 
While the country is facing a growing wall of economic turmoil, the wealthy are kicking back with some of life's finer pleasures and acting like everything's fine. Unfortunately, that's far from the reality of the situation. And as long as Russians try to ignore that reality, things will most likely only get worse.
h/t Business Insider