Reports: Republican Congressman Michael Grimm To Resign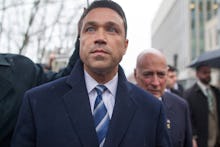 Rep. Michael Grimm (R-N.Y.) has decided to resign from Congress in the wake of his guilty plea on a felony tax evasion charge, according to multiple reports.
Grimm faced 20 counts of fraud and tax evasion related to a health-food restaurant he owned in Manhattan. A former FBI agent and Marine, Grimm bought the restaurant, Healthalicious, after leaving the FBI in 2006, according to the New York Times. Prosecutors said Grimm hid more than $1 million in income and paid restaurant employees under the table to avoid taxation.
While exiting court last week, Grimm said he wouldn't resign and that "as long as I'm able to serve, I'm going to serve."