This Conservative Billionaire Wants to Transform America's Criminal Justice System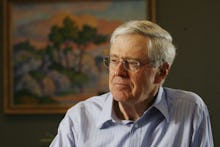 Charles Koch, titan of industry, billionaire mega-donor and one half of the most notorious pair of siblings in conservative politics, is just as concerned about the American criminal justice system as the liberal activists who see Koch as a conservative boogey-man.
While polling among conservatives might suggest that Koch's anxiety is on behalf of the beleaguered reputation of the police, it turns out he's aligned with progressives in the national quest for reforming their practices. In an interview with the Wichita Eagle published on Saturday, Koch explained that reducing the severity of the criminal justice system has been a cause he's been interested in for quite some time, and one that he intends to devote more energy to in the coming year. 
What he said. His epiphany on injustice in the court system begins with a grand jury decision, but not the one in Ferguson, Missouri. In 2000, a federal grand jury indicted his company on 97 counts of environmental crimes for concealing pollutant regulation violations, which ultimately resulted in a $20 million settlement out of court. 
Mark Holden, Koch's chief counsel, said that Koch wondered afterward "how the little guy who doesn't have Koch's resources deals with prosecutions like that," according to the Wichita Eagle.
Setting aside the absurdity of this account — there's no reason that high fines for corporate malfeasance would prompt reflection on unfair sentences for something like minor drug possession — Koch's interest in the matter appears to be sincere. 
For about 10 years, Koch has been giving to the National Association of Criminal Defense Lawyers to support indigent defense. The Wichita Eagle didn't report an exact number, but Koch's contributions have totaled in the seven figures. He says he's also worked with the American Civil Liberties Union and liberal mover and shaker George Soros in this policy domain.
What it means: Koch's belief that the corrections system incurs too high a cost on offenders — one that he thinks afflicts the disadvantaged uniquely and "appears to have a racial angle" — is not irreconcilable with his political priorities. While Koch and his family have lavished establishment Republicans with staggering sums of money, he is ultimately a libertarian with a fixation on combating the role of the government in society. Most of this involves free market zealotry, but a concern that the criminal justice system is reaching too far into people's lives and that mass incarceration is unhealthy is very much in line with a libertarian's agenda to maximize citizen's liberty in relation to the state.     
Koch is only the latest prominent conservative to speak to the need for significant reform in the criminal justice system. Libertarian senator and potential presidential candidate Rand Paul expressed sympathy for protests in Ferguson, and former President George W. Bush lamented that Eric Garner's death by police chokehold was "hard to understand."
These kinds of comments bode well for reformers, who have a unique window of opportunity for doing way with the criminal justice system's worst excesses and tendencies for discrimination. Reforms that command consensus across the political spectrum are extraordinarily difficult to come across these days, and require action before the status quo force of polarization slams that window shut.
h/t Huffington Post