Pussy Riot's Explosive New Video Is Sending a Message Putin Can't Ignore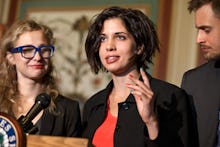 The Russian punk protest band Pussy Riot have released a fiery new video in support of anti-Putin opposition leader Alexei Navalny. After a long and controversial prosecution, a Moscow court gave Navalny a suspended sentence on Tuesday while sending his younger brother, Oleg, to jail for 3.5 years after convicting both on dubious charges that they both embezzled more than $500,000 from two private companies.
In the clip, called "The Witches of Pussy Riot Clean Manezhka," leading band members Nadya Tolokonnikova and Maria Alyokhina join with two other political activists to sing and sweep Manezhnaya Square, preparing it for new demonstrations against President Vladimir Putin's authoritarian government.
"We're calling on people to follow the example of the witches and come out onto Manezhka and fly in the direction of the Kremlin," Tolokonnikova told BuzzFeed News on Monday night. The band sheds their trademark balaclavas for evening wear in this latest video, as they first appear seeming to prepare for an elegant night on the town. 
For Pussy Riot, that means grabbing brooms and tidying the square for protesters, who have already been cleared by Moscow police once Tuesday but are gathering now by the thousands in the wake of the verdicts.
The sentencing: In a particularly disturbing turn, the Russian court appeared to take personal vengeance on Alexei Navalny, a leading Moscow dissident, by jailing his brother, a post office employee who was mostly unknown to the public before he was tried alongside his politically active brother. 
"Aren't you ashamed?" Navalny shouted at the judge after she delivered the sentences, according to a New York Times report. "Why are you jailing him? This is a dirty trick. To punish me more?"
Below, Navalny watches as bailiffs lead Oleg out of the courtroom for transport to a Russian penal colony. In a recent interview with local newspaper Novaya Gazeta, Oleg seemed resigned to his fate.
"We absolutely knew that sooner or later this all would touch us," he said of the government's response to Navalny's activist work. "It is easy to influence a person through his family."
What happens next? Navalny was detained by police after breaking house arrest to join an opposition rally in Moscow. 
Russian officials are likely hoping that protesters will stand down now that Alexei Navalny has been spared any immediate prison time. They are also betting that Navalny will be hesitant to continue his opposition work knowing that his brother is in state custody. 
"I was detained," Navalny said on his Twitter account on Tuesday. "But they won't be able to detain everyone."
You can watch a live feed of the relatively tame but tense rally forming in Manezhnaya Square here:
The whole world is watching: Pussy Riot first came to international prominence after being arrested and convicted for "hooliganism" in 2012, when they filmed a video for their song, "Punk Prayer," in Moscow's Cathedral of Christ the Savior. They were eventually freed only to be beaten and detained for attempting to film again, this time in Sochi during the February Winter Olympics. 
Less than two weeks before that, they held a press conference and performed at an Amnesty International benefit concert at the Barclays Center in Brooklyn. They have also appeared alongside global political leaders, speaking at Tina Brown's Women in the World summit, which also hosted political leaders like the International Monetary Fund's Christine Lagarde and former U.S. Secretary of State Hillary Clinton.
With the Navalny case, the artists-cum-activists are using their hard-won standing to bring global attention to this latest series of abuses of the Putin government. So although the trial, which had been on human rights groups' radar for months, has ended, Pussy Riot is still singing for justice, and the whole world will be watching what happens next.