Mo'ne Davis Just Won Female Athlete of the Year, Proving the World Needs More Girl Power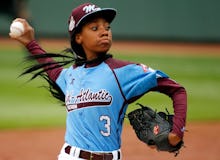 Mo'ne Davis is living proof of how powerful girls can be when they're given ample opportunity and resources to chase their dreams.
The 13-year-old Little League champion, who became an overnight celebrity in August, was awarded the Associated Press Female Athlete of the Year Award for 2014 on Monday — the youngest ever recipient of the award. Her badass pitching abilities helped her best tennis pro Serena Williams for the coveted title.
However, this award is only the most recent in a long line of accolades. Davis graced the cover of Sports Illustrated in August, landed a spot on Time's Most Influential Teens list, was named Sports Illustrated Kids' Sport Kid of the Year, starred in a Chevrolet commercial, marched in the Macy's Thanksgiving Day Parade and even met the Obamas at the White House. And those are just a few of her distinctions.
That's a lot of success for any person, let alone an eighth grader.
Girls need role models like Mo'ne Davis. The young star's accomplishments are impressive, but so is the message she sends: Women don't have to wait until adulthood to follow their dreams, and they certainly don't have to abide by outdated gender stereotypes. "No matter who you are, you should be able to do what you like to do and what you've always dreamed of doing," she told ESPN.
Davis also demonstrates enviable confidence, a trait often celebrated in teen boys but yet distressingly discouraged for some teen girls (lest they seem overly bossy or assertive). This "gendered disparity" in confidence continues into adulthood, notes Jessica Valenti, although she adds that it "is not a personal defect as much as it is a reflection of a culture that gives women no reason to feel self-assured."
In contrast, it's refreshing to hear Davis' self-assuredness. "I'll probably either be the first female in the MLB or in the NBA," she said on the Today Show in August.
But even more than role models, girls need resources. Davis is exceptional, not just for her work ethic and natural talent, but in terms of the support and resources she's been provided. She has the advantages of family support, access to a private school with athletic training and equipment, and outside coaches.
Unfortunately, not every girl has these opportunities.  
Gender inequality infiltrates girls' lives on a daily basis, impacting their ability to thrive from birth, in some cases. For example, according to nonprofit Girl Rising, over 60 millions girls worldwide don't (for many reasons) attend primary school. Those who do receive an education may be met with gendered obstacles and biases along the way. Then, of course, there's the global devaluing of girls at home, a phenomenon that creates a ripple effect of negative consequences, including physical violence, child marriage and much worse. 
In other words, young girls may be bursting with untapped potential, but unless they have the resources to realize those dreams, they may end up stifled. 
2014: Year of the Girl. You can't overemphasize the value of role models, like Davis and her slightly older compatriot Malala Yousafzai. Together with converted advocacy and support, they are the key to unlocking progress — not just on an individual level, but an institutional one.
"I have a name, and it's not anonymous or insignificant or unworthy waiting to be called," reads the Girl Declaration, a document signed by Yousafzai and dozens of other influential thinkers and advocates. "This is the moment when my rising no longer scares you. This is the moment when being a girl became my strength, my sanctuary, not my pain."
Davis, Yousafzai and countless other young women have proven that girls can no longer be ignored.
As the Girl Scout Council's Lidia Soto-Harmon wrote for the Shriver Report, "We must provide girls with safe and supportive environments that allow them to reach their full potential. When we add in caring and committed ... mentors, we have a recipe for success for everyone. Because when girls succeed, so does our society."