After Her Fiance Left, This Bride Made an Amazing Statement With Her Wedding Dress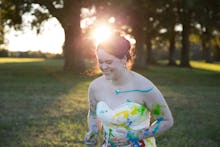 There's a lot of pressure on a wedding — and a wedding dress — to be perfect. 
But striving for the picture-perfect, one-day blowout party with the pristine fairytale princess dress misses the point. And that's something one bride reminded everyone in an awesome way.
Shelby Swink was preparing to wed her boyfriend of three years on Nov. 1. "I poured my heart and soul into the wedding plans to try and make it the best day it could be," Swink said in a statement from her wedding photographer, Elizabeth Hoard. "It was going to be a celebration of our love and commitment to each other, so I wanted to to be absolutely amazing." 
But five days before the wedding, her fiancé pulled out, saying he didn't love her and couldn't go through with it. 
The picture-perfect wedding wasn't going to happen. In a move most people, especially future brides, would do well to note, Swink embraced and celebrated the positivity and love that was still in her life sans fiancé by trashing her dress on the day her wedding was supposed to take place.
What's more, her bridal party and parents joined in, taking the "trash the dress" trend to a jubilant new level. 
"My friends and family surrounded me and showed me endless love and support," Swink said, acknowledging that she didn't need pity, but rather positive affirmation. "I am a strong woman who believes that everything happens for a reason. I decided that I will not let this tragedy and heartbreak consume me and bring me down in life." 
At a time when brides spend so much time obsessing over the details and overlooking the important thing — you know, love — and when single people are told again and again how marriage is more important than any other amazing things they've got going — it's a healthy reminder everyone could use. Sure, weddings and marriage are great. But even without them, life is still be worth celebrating.
Plus, that Jackson Pollock dress is better than any white one we saw all year.
Swink's dress is on display through early January 2015 at the Barefoot Bride, the Memphis, Tennessee, boutique where she bought it. The store is also dedicating a portion of its proceeds to Be Free Revolution, a local nonprofit empowering men and women in Africa with trade skills.
h/t OffBeatBride