11 Global Hits from 2014 That Are About to Make it Big in America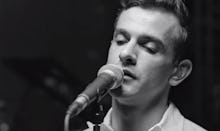 It's no secret that music is becoming increasingly global.
With streaming sites like SoundCloud, Spotify and even Youtube, music no longer is defined by international borders. But the U.S. is lagging behind — songs explode everywhere else before American audiences finally give them a chance, far down the road.
This year alone, Irish artist Hozier's "Take Me to Church" completed its yearlong climb to the high reaches of Billboard's charts, and British group Clean Bandit completed a similarly arduous journey with "Rather Be," which was popular basically everywhere else before Americans deigned to listen. Meanwhile, Stromae, an established global pop star who was basically unheard of in the U.S., made his first big splash in America.
In 2014, especially, the global pop scene was producing in full force. Some songs that rocked other countries last year, then, are beginning that long journey to American charts. If you want to see some potential hits of 2015, look no further than these international hits of yesteryear:
"Diamonds" by Josef Salvat (Australia)
This London-based Australian singer songwriter and former law student has been writing music since he was 13. With influences ranging from Björk, Florence and the Machine, Sia and Nina Simone, Josef Salvat has his eyes set on making it big in 2015. His incredible cover of Rihanna's "Diamonds" peaked at No. 2 on the French pop charts.
But Salvat has more to share with the world than just a catchy cover. Songs like "Open Season," off of Salvat's four-song EP In Your Prime, resonate with any person familiar with the infamous quarter-life crisis. 
"Walk" by Kwabs (U.K.)
Named one of the Guardian's "Rising Stars of 2015," this London-born singer has relied on his incredible voice to express himself through the hardships of his young life in and out of the foster care system. 
For three years he was the lead singer of the National Youth Jazz Orchestra, and he studied at the Royal Academy of Music. Then, in 2011, two cover songs he'd posted to YouTube went viral, and he was quickly singed to Atlantic Records. With his jazz chops honed, Kwabs' rhythmic and electro-synth beats are infectious. Kwabs may not have made it big in the U.S. in 2014, but his story and music are sure to change that for him in 2015.
"Firestone" by Kygo ft. Conrad (Norway)
This 23-year-old Norwegian DJ has found himself dubbed the next EDM superstar. Having landed one of the biggest record deals of the year, with Ultra Records and Sony International, Kygo's music is likely to dominate the club scene of 2015. 
Kygo's music might have been big at EDM festivals and clubs, but it hasn't yet broken in the U.S. 2015 could very well be Kygo's year with an anticipated full album due out before long.
"Rooftop" by Zara Larsson (Sweden)
This Swedish pop diva could easily hold her own with American artists like Ariana Grande and Taylor Swift. Even at 16 years old, Zara Larsson isn't a stranger to the music scene. In 2008, at age 10, she won Sweden's Got Talent competition (known as Talang), blowing away the judges in her first audition. More recently, she's been dominating the proper pop charts, with songs like "Rooftop" eliciting comparisons to early hits by Rihanna, Beyoncé and even Pink. 
With her two hit singles — "Carry You Home" and "Rooftop" — in Sweden, Zara Larsson's pop hooks might just wade over into the U.S. charts as she recently moved to Los Angeles, where she will be staying until at least March.
"Only Love Can Hurt Like This" by Paloma Faith (U.K.)
Audiences in the U.K. have been blasting the music of Paloma Faith all year — in fact, four songs of hers hit the charts. But her soulful music hasn't come to the U.S. That needs to change.
Faith's raw singing chops and undeniable sex appeal could easily launch her to international superstardom. One listen to her lyrics and you can easily discern the rawness and emotional depth of her songwriting, matched with vocals reminiscent of Amy Winehouse. 
Her third album, A Perfect Contradiction, came out last year and became her fastest selling album to date. It also scored her two consecutive top 10 entries in the U.K.
"Prayer in C (Remix)" by Lilly Wood and the Prick (France, Germany)
Quite possibly the biggest hit in Europe you've never heard of, the groovy "Prayer in C" by French pop-electronic duo Lilly Wood & the Prick has the potential to make it big in the U.S. The song came out in 2010, but last year it was remixed by German techno producer Robin Schulz to create a dance-worthy hit. Lilly Wood & the Prick's catchy music is matched with equal melancholy, giving depth to an otherwise catchy club hit. 
Nili Hadida, the female component of the duo, says she's "not a very happy person," leading to the often somber lyrics in their songs. Take the last verse of their hit: "And see the children are starving / And their houses were destroyed / Don't think they could forgive you." It's a testament to the music that such a somber song has traveled so far. 
"Dernière Danse" by Indila (France)
Having been viewed over 160 million times on YouTube, Adila Sedraia's song "Dernière Danse" (Last Dance) was one of France's biggest hits of 2014. She even unseated European superstar Stromae at the top of the charts.
Going by the stage name Indila, her album Mini World sold over 500,000 copies in France, making her the second-biggest-selling artist in France for 2014. Working with French music legend Charles Aznavour, Sedraia's music is hitting the sweet spot in synth pop that shaped 2014's pop music landscape. Yet in America, she's still almost totally unknown. Though it's unlikely a French-language song like "Dernière Danse" will chart in the U.S., it's quite likely Indila will begin to have more of an impact stateside.
"Mother and Father" by Broods (New Zealand)
This brother-sister duo from New Zealand worked with Lorde producer Joel Little to create their debut album Evergreen. Having opened for Sam Smith for part of his 2014 U.S. tour, the pair is ready to make it on their own, following in the footsteps of Lorde and Sam Smith's broad U.S. and U.K. appeal. 
"It definitely covers all the bases of who we are," George Nott said of the album, in an interview with Billboard. "We've got all the upbeat songs that we love to play onstage, and then we've got the sad songs that we love to listen to in our rooms." America loves Lorde, Sam Smith and Chvrches — Broods is next. "Mother & Father" is a near-perfect pop song, and it will almost certainly do well for itself in the states.
"Cheerleader (Felix Jaehn Remix)" by OMI (Jamaica, Germany)
Jamaican reggae artist OMI's 2012 hit single "Cheerleader" was given new life in 2014. It was remixed by German DJ Felix Jaehn and was then certified gold in Sweden. It's currently gracing Spotify's Swedish chart, too. Though he's only released a handful of songs, OMI is primed for a huge break this year.
The son of a Jamaican musician, OMI (whose real name is Omar Samuel Pasley) signed a record deal with Sony Music International and will be releasing a full debut album in 2015. He'll be stateside on a U.S. tour in February, too.
"Når Intet Er Godt Nok (When Nothing Is Good Enough)" by Medina (Denmark)
This electro-pop Danish diva is easily recognizable as one of Denmark's biggest music stars. Though she's primarily known for the Danish songs, her songs in English like "You and I" and her two full-length English-only albums made dents on the English-European charts.
Medina (whose real name is Andrea Fuentealba Valbak) is ready to make a mark in the U.S., as she told her future American fans in an interview with the Examiner, "Just you fucking wait and see! I'll see you all out there!"
"6 AM" by J. Balvin and Farruko (Columbia)
Listed as one of the top songs on Latin American radio stations, according to Billboard, "6 AM" is the club hit that is slowly making its way into America via the club scene. Columbia-born reggaeton musician J. Balvin worked with singer-songwriter Farruko to produce an ode to being blackout drunk. While it came out in 2013, it only hit it big this year, making some dents in the New York City club scene, breaking into the Billboard charts in Brazil, leading him to open for Pitbull and Enrique Iglesias' U.S. tours. 
While mostly unbeknownst to U.S audiences, J. Balvin may be the biggest musician in Latin America, being dubbed the "go to guy" for Spanish remixes of U.S. pop songs for the likes of Ariana Grande and Robin Thicke. In fact, J. Balvin is so big to the point where "girls climbed the walls of his house" just to get a picture of him. It's only a matter of time before he makes his mark in the states.