33 Years After Bob Marley's Death, Reggae Is Now More Important Than Ever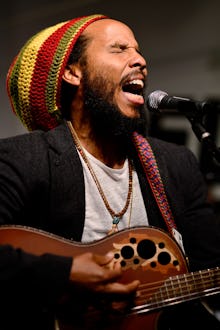 Before America met Bob Marley, reggae was merely "novelty music." Criticism in the U.S. focused on how it was "crude, cheap, not to be taken seriously on any level." It had no tune or any "good words (and you couldn't understand them if it did)." Yet after hearing Marley's early hits — like his inspiring "Get Up, Stand Up" and "I Shot The Sheriff," a subtle critique of global police brutality — America  grew to love the genre's feel and insights. 
But while Marley remains one of the highest-earning deceased artists even 33 years after his death, reggae hasn't faired nearly as well. No reggae artist has been able to take up Marley's mantle and make a significant impact in the international mainstream. Snoop Dogg tried last year with his hilariously misguided Lion reincarnation. The success of Canadian fusion band Magic!'s "reggae" song "Rude" this summer was a sign that reggae may be becoming, once again, a novelty genre. 
But despite the way it seems in the mainstream, reggae is currently experiencing a roots revival, and several up-and-coming reggae artists are growing some powerful followings in the U.S. as well. It couldn't come at a better time. We're more in need of protest music now than ever. And historically, reggae has been one of the most universal and politicized genres. The time may be right for the next generation of reggae artists to finally break out. And they're ready for it. This is the new face of reggae.
Since Bob Marley's death, his children have been some of the most active artists in continuing reggae's simultaneously joyful and politicized sound. Just last week, his sons released a new compilation Set Up Shop Vol. 2 through their record label Ghetto Youths International. Featuring music from the brothers and the label's other acts, it's one of the year's most substantive, big-name reggae releases, priming reggae for a comeback.
"Whether it's about love, struggle or strife on a personal level or global scale, all of these songs carry a message," Stephen "Ragga" Marley told Billboard. "We wanted a compilation that touches on relevant issues and gives some newfound perspective, the street-people perspective."
That's exactly the sort of attitude Bob Marley represented, and it's more alive across the genre than the mainstream lets on. Reggae newcomer Black-Am-I describes the realities of ghetto life on "In The Ghetto." And the album's single, Damian "Jr. Gong" Marley's "Is It Worth It? (Gunman World)," explores the life of a career criminal and the emotional fallout that can come from perpetuating a culture of violence.
But reggae has continued to expand its sounds well beyond Bob Marley's palette.
"We have to push the people," Ziggy Marley told Noisey. "We have to push them to break new grounds or otherwise we keep repeating the same things over and over and that's no fun. That's not creativity, that's not life. You know? We are living we have to live."
That's one of the things that makes this a phenomenally exciting time for the genre. For instance, MTV Iggy recently highlighted Jah9, a female reggae artist from Jamaica and a member of the roots reggae revival scene. Jah9 has coined her music "jazz on dub," mixing in sounds from American jazz and '50s blues with reggae.
MTV predicts she may soon be due for a blow up similar to what fellow Rastafarian reggae artist Chronixx experienced recently. His album caught the ear of big names in the industry when it vaulted to the top of the Billboard Reggae charts, after he performed his song "Here Comes Trouble" on The Tonight Show earlier this year.
"We have all been waiting for reggae to bounce back into the mainstream and get more support," Deejay Gravy, cofounder of the Caribbean culture blog LargeUp, recently told Billboard. "Chronixx has won the people over because he doesn't compromise the integrity of the messages in his music. He always has a positive and insightful take, a perspective all his own — that is what people are gravitating towards."
Though the sounds of reggae are changing, that commitment to socially conscious messages remains firm. Virginia-based reggae band SOJA received a lot of mainstream attention after their recent album Amid the Noise and Haste was nominated for a Grammy for Best Reggae Album.
"Conscious music deserves a seat at the mainstream table, music that heals instead of what music is now, which is to talk about money, getting messed up, sleeping with women and being generally better than everyone all at the same time," SOJA's lead singer Jacob Hemphill recently told DC Music Download in core reggae fashion. "Why not have a few songs about things that really matter?"
That's why reggae still matters — it isn't just about the genre, it's how we think about the world and music's place in it. Several prominent artists from the hip-hop and folk music communities, including Questlove, J. Cole, Hozier and Hurray For Riff Raff have repeated the complaint that radio is devoid of music with social or political consequence. None of it is fit to heal or inspire our nation that's currently caught up in a period of tremendous social upheaval.
Reggae may be exactly the protest music we need right now. It's positive, spiritually uplifting and politically insightful. It's slowly working its way back to the mainstream. The climate is ripe for a musician to emerge and build a musical legacy fit to rival the legendary Bob Marley himself. And they're out there — all we have to do is listen to them.