Putin's Biggest Critic Just Told Him Off in the Best Possible Way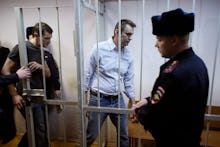 By getting himself arrested: One of Vladimir Putin's biggest critics isn't shutting up, no matter what the government throws at him.
Opposition leader Alexei Navalny broke house arrest to join a Moscow protest Tuesday — despite a crackdown on the activist's family — and was detained by police as he approached the demonstration near Red Square. His brother received a 3 1/2-year prison sentence Tuesday on fishy embezzlement charges. 
"This regime has no right to exist, it must be destroyed," Navalny said before the protest, according to Al Jazeera. "I call on everyone to take to the streets today."
The background: Navalny led protests against Putin's regime three years ago, and even ran for mayor of Moscow last year, coming in second to the heavy establishment favorite. He and his brother were targeted with what critics of the Kremlin say were trumped up charges.
The two were charged with defrauding French company Yves Rocher of the equivalent of $500,000, even though the company says they didn't actually lose any money. Navalny's brother received time in prison after a 15-minute hearing, while Navalny got a suspended sentence.
"What are you jailing him for, what sort of disgrace is this?" Navalny yelled in the courtroom. "This is to punish me even more?"
Opposition figures told Reuters that jailing Navalny risked a new wave of protests, leading government officials to punish him through his brother instead. The EU said the verdict appeared to be politically motivated, and a German official said the ruling was a blow to civil society. The Kremlin denied allegations that it uses the courts to persecute opponents.
What it means: Locking up a major critic and throwing away the key could lead to even bigger protests, which is why some say the Kremlin is targeting Navalny's brother in order to keep Navalny from protesting.
Tuesday's rally was not given the official state stamp of approval, allowing police to arrest participants. While Putin had seen a rise in popularity after his hard line on Ukraine, the country's economic free fall has led to more unrest.
Jailing family members would make anyone hesitant to stand up against their government. But if Navalny's response is any indication, Putin isn't going to see an end to protests anytime soon.