These Powerful #RealLiveTransAdult Tweets Are Showing Trans Youth They're Not Alone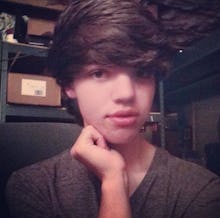 In the aftermath of 17-year-old transgender teen Leelah Alcorn's suicide in Ohio, members of the trans community everywhere — even in the midst of their grief — are opening their hearts in a major way. 
On Sunday morning, Alcorn reportedly stepped in front of a passing semi on a nearby highway, killing herself. Hours later, pre-scheduled farewell notes appeared on her Tumblr, detailing years of what she described as emotional abuse and social isolation at the hands of her devout Christian parents. It's indicative of the stigma and discrimination endured by many trans people on a daily basis. 
And while the tragic news spread, the trans community rallied together on Twitter, showing trans youth that they do indeed have sources of support and affirmation. 
Heartbroken by reports of Alcorn's suicide, Oakland-based comedian Red Durkin started the hashtag #RealLiveTransAdult. Durkin told Mic that she was struck by Alcorn's apparent belief that she would never lead a happy life because she's trans. So Durkin wanted to make herself visible to younger trans people, to show that there are friends out there who know the feelings of isolation and depression all too well — and who can help.
"I know too well what that hopelessness feels like. It made me remember my own childhood," she said. "I just wanted to do something that said: 'Hey, kid, I'm like you, but I'm a grown-up and I'm living my life. This is possible. You can do it.'"
Durkin invited other trans adults to do the same. 
The hashtag has since snowballed, with others around the world sharing their own stories of inspiration and hope for young people like Alcorn who may be think they are struggling alone.
Durkin said visibility is one of a number of important challenges facing youth — many of whom endure disproportionately high rates of bullying, harassment and family rejection. Ultimately, society needs to recognize the value of trans lives. 
"We need people to take us seriously, to see our struggle, and to work within their own homes and communities to eradicate the antipathy for trans people that still lingers in our culture," she said. "Trans people need to be listened to, they need to be respected, they need to be treated as human beings, possessing the same dignity and autonomy as anyone else. We need health care, jobs, security. We need a less tenuous place in the world."
Hopefully many will heed the call, become accountable and work to create a better world for trans people, and especially for trans youth. 
Need help? In the U.S., call 1-800-273-8255 for the National Suicide Prevention Lifeline, or call the Transgender Crisis Hotline at 1-877-565-8860.