If You Like Ice Cream and Wine, This Is Your Dream Come True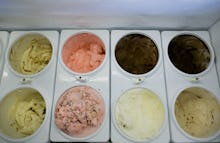 If you weren't already screaming for ice cream, this concoction should do the trick. Thanks to Mercer's Dairy in Boonville, New York, it's now possible to get drunk from eating ice cream.
Mercer's Wine Ice Cream contains 5% alcohol by volume and is offered in eight different wine flavors: Cherry Merlot, Chocolate Cabernet, Peach White Zinfandel, Port, Red Raspberry Chardonnay, Riesling, Spice and Strawberry Sparkling. While the ice cream isn't necessarily brand new (the product was introduced at a food expo in 2007), it's fair to hail it as the best culinary invention to pop onto the food scene this year — though what a late entry it is.
And, as it turns out, we might have Hillary Clinton to thank for the concoction. Apparently, when then-U.S. Senator Hillary Clinton put the grape growers next to the ice cream makers at a Washington showcase of New York farm products in 2003, wheels started turning. People began pouring their wine into their ice cream and the consensus was unanimous: This definitely needed to be invented.
Admittedly, this isn't the first time someone has thought to combine alcohol with dessert. However, this is the first truly alcoholic ice cream to hit stores. While Ciao Bella offers alcoholic sorbet, and plenty of DIY recipes to make alcoholic ice cream scatter Pinterest, these are the first flavors of ice cream reserved only for those over the age of 21.
As for the pairing? The two combined foods, while beloved, might raise some eyebrows — after all, wine and creamy flavors don't usually mix well together. (Creamy alcoholic beverages tend to get the Kahlua treatment.)
But that's something you'll have to taste for yourself. If you're not in New York, don't fret. It's still possible to try it. Mercer's ships wine ice cream by the pint, half gallon, five-quart pail, or three-gallon tub, depending on how hungry – or thirsty – you are.
Girls' night in just got so much better.
h/t TIME