'Brands Saying Bae' Taunts Companies That Want to Sound Cooler Than You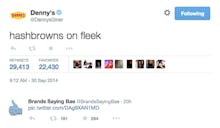 It's no secret that brands will stop at nothing to co-opt the language of the most valuable demographic in America: the kids.
You know the types. They're companies like Denny's, Taco Bell, IHOP and Whole Foods. They tweet things like "hashbrowns on fleek," various forms of "bae" and whatever the hell this is. They interact with their customer base as if it were a 13-year-old middle schooler wearing a snapback. They pay some poor, feckless social media manager to trawl the Web looking for that #hot new #content that will put them at the forefront of cultural relevancy. 
One Twitter account is turning that strategy directly on its head: Meet @BrandsSayingBae, the snarky Internet presence hellbent on calling out corporate entities for their often painful attempts at looking cool.
It's about time. These kinds of attempts were sort of funny at first — this Taco Bell "Taco Bae" tweet from April has around 50,000 retweets — but when it's all fleek, all the time, the humor starts to dry up rather quickly. 
With a delightfully sarcastic tone and a lot of material to work with, Brands Saying Bae is methodically calling out every instance of youth-crazed tomfoolery it sees.
Racking up nearly 20,000 followers since Sunday, and often getting just as many retweets as the brands themselves, the account has clearly struck a nerve. Even if you have no idea what "on fleek" means — something akin to "on point," as it turns out — it's easy to appreciate the sarcastic teenager of a Twitter account we never even knew we needed.  
The bizarro world of corporate Twitter — the very thing that Brands Saying Bae is lampooning — isn't new. As Kate Losse wrote in the New Inquiry: 
"When corporations tweet something 'weird' and 'funny' to us, we pay more attention: The thought of a traditional corporate entity, which has historically had no direct 'voice,' suddenly distilling itself into an eccentric, devil-may-care character is instantly affecting, precisely because of how uncanny, even creepy, it is." 
But even the most affecting strategies become stale and overdone eventually. When all brands start using the same #hip and #cool new terminology, people start taking notice — and those people know how to use Twitter to their advantage too.
h/t Slate