Palestine Joining the ICC to Bring War Crimes Charges Against Israel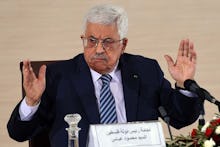 The news: Palestinian President Mahmoud Abbas announced on Wednesday that Palestine has joined the International Criminal Court, paving the way for Palestinian officials to bring war crimes charges against Israel. 
On the heels of a stinging defeat of a Palestinian resolution seeking international recognition and demanding an end to Israeli occupation at the U.N. Security Council, Abbas has taken his case to the ICC. 
"We want to complain. There's aggression against us, against our land. The Security Council disappointed us," Abbas said as he gathered a meeting of the Palestinian leadership in the West Bank, reports the Associated Press.
The decision to involve the ICC opens the door for the court to investigate crimes that occurred in Palestinian territories, as well as the oversight of both Israeli and Palestinian leaders.
The move will likely prompt a diplomatic clash with the United States, and it will most definitely evoke a negative response from Israel. 
The background: Abbas has been under domestic pressure to take a stand against Israel in the wake of this summer's heavy conflict and the collapse of U.S.-brokered peace talks; the recent U.N. Security Council defeat further prompted him to take action.
"After two decades of failed on-again, off-again peace talks, the Palestinians have grown disillusioned and decided to seek international recognition of their independence in the absence in various global bodies," the Associated Press explains. "While the campaign does not change the situation on the ground, the Palestinians believe the strong international support will put pressure on Israel to allow the creation of a Palestinian state in the West Bank, Gaza Strip and east Jerusalem."
Though Abbas has threatened to join the ICC since 2012, Tuesday marks a dramatic shift in relations between Israel and Palestine; as Peter Beaumont at the Guardian wrote, things have transitioned from "tense to openly hostile."
The ICC has the power to prosecute people accused of genocide, crimes against humanity and war crimes carried out since 2002, when the statute came about.
As for Israel's response, Al Jazeera reports that "Israel's President Benjamin Netanyahu vowed to take action following the announcement."