The UK Just Took a Bold Stand Against Unfair Beauty Standards the US Never Would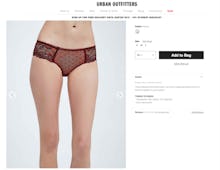 The U.K. just took a bold stand against that most inane iteration of beauty standards — the thigh gap.
After receiving complaints about an Urban Outfitters U.K. ad featuring an extremely thin model in mesh panties, the U.K.'s Advertising Standards Authority ordered the retailer late last month to remove it from its website, claiming the ad was "irresponsible" for depicting an egregiously large thigh gap. 
Specifically, the regulator wrote that it feared the ad might prompt young women to emulate an unrealistic beauty standard: "We understood that Urban Outfitters' target market was young people and considered that using a noticeably underweight model was likely to impress upon that audience that the image was representative of the people who might wear Urban Outfitters' clothing, and as being something to aspire to."
Naturally, Urban Outfitters disagreed. The retailer defended itself by citing the model's measurements in an attempt to prove that she is really just "naturally tall and slim," per the Advertising Standards Authority. 
This, however, did not placate British regulators. According to the Advertising Standards Authority, Urban Outfitters "did not believe she was underweight and provided a copy of her agency profile, other photographs of the model and a list of clients for whom she had posed. They stated that her waist size was 23.5 inches, and ... added that it was common practice to use slim models in the underwear industry, but they did not consider that the model was underweight or unhealthily thin."
While Urban Outfitters may consider a 23.5-inch waist normal, the U.K.'s National Health Service cites a healthy waistline as one up to 31.5 inches. That difference represents the disconnect between the fashion industry's ideals and the average woman's reality.
Urban Outfitters declined to comment on the story when reached by Mic via email.
This isn't the first time the U.K. has banned "irresponsible" ads. In September, American Apparel came under fire for ads that sexualized school girls, and the ASA has banned several other "misleading" and "socially irresponsible" ads, including ones by L'Oreal, Miu Miu, Marc Jacobs and Lancôme. 
While the U.K. won't tolerate the promotion of unattainable beauty standards in advertising, the same can't be said for the U.S., which has not taken such formal stands against similarly harmful ads. While the public is quick to complain, peruse any American magazine, website or TV channel and you're sure to find numerous instances of extreme Photoshopping and underweight models. Some American companies have even been caught Photoshopping thigh gaps into their ads.
The U.S. needs to follow the U.K.'s lead. Not only are thigh gaps (and other absurd beauty conventions) unrealistic, their proliferation in the media has harmful consequences. It's time the U.S. does right by its impressionable youth and sends the message that body positivity is hot, not unrealistic bodies.