The Death Penalty Is Officially Over in Maryland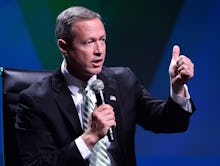 Maryland's death row is now empty.
Gov. Martin O'Malley commuted the sentences of the last four inmates in line for execution, giving them life in prison instead. The action ties a ribbon on the state's 2013 decision to abolish the death penalty.
"The question at hand is whether any public good is served by allowing these essentially un-executable sentences to stand," O'Malley said in a statement. "In my judgment, leaving these death sentences in place does not serve the public good of the people of Maryland — present or future."
The background: Maryland is one of 18 states to abolish the death penalty, and it's the most recent to do so.
O'Malley said he met with families of the victims killed by the prisoners in question before making his decision. Commuting the sentences, he said, avoids the seemingly endless death row appeals process that can take its toll on families and other observers.
"Gubernatorial inaction — at this point in the legal process — would, in my judgment, needlessly and callously subject survivors, and the people of Maryland, to the ordeal of an endless appeals process, with unpredictable twists and turns, and without any hope of finality or closure," he said in his statement.
Moving forward: The governor's term expires next month, making this one of his last acts in the office. O'Malley may now be looking ahead to bigger races.
He's been pegged as a potential contender for the Democratic presidential nomination in 2016. While Hillary Clinton is a presumptive favorite, ending the death penalty in his home state could buff O'Malley's liberal bona fides for the primary.
He'll be replaced by Republican Larry Hogan, who won in November. But that doesn't mean a return a capital punishment:  According to the Huffington Post, Hogan has said he won't ask for the death penalty to be reinstated.