17 Fantastic Photos of New Year's Eve Around the World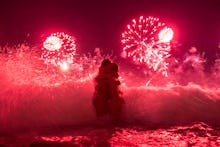 There are few traditions more universal than ringing in the new year. The Associated Press reports that "Millions of revelers converged Wednesday night on the beaches of Brazil, the streets of Seoul, South Korea, and New York's Times Square to say good riddance to a turbulent 2014."
Editor's Note: Feb. 25, 2015
An earlier version of this article failed to cite a passage from the Associated Press in accordance with Mic editorial standards. The article has been updated to properly attribute the language to the Associated Press.