This Is What New Year's Eve Looks Like When Everyone Has Fireworks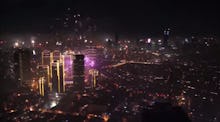 You've probably never seen a New Year's Eve like this before. The video, taken from the tallest building in metro Manila, captures the cacophony of amateur fireworks detonating over the city as the Philippines rang in the new year Wednesday night.
This scene is relatively unique to the Philippines. In Western countries like the United States, professional-grade fireworks are heavily regulated, their purchase restricted to licensed technicians. But in countries like the Philippines and China, restrictions are much looser. In the Philippines, only about 20 types of fireworks are considered illegal under the Republic Act 7183, passed in 1992.
As a result, New Year's Eve in cities like Manila, captured above, are total anarchy, an hourlong lightshow of amateur fireworks. But this celebration has its costs: Nearly 130 people were injured by fireworks by Dec. 29 alone, prompting the Philippines Department of Health to ask local governments to ban firecrackers.
h/t reddit