Angela Merkel Used Her New Year's Message to Put Germany's Anti-Islamic Protests on Blast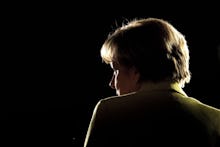 "They have hatred in their hearts."
German Chancellor Angela Merkel delivered a stinging indictment of Germany's growing anti-Islamic movement during her New Year's address Wednesday. She accused the leaders of recent anti-Islam protests of spreading prejudice, suggesting that they had commandeered political slogans that helped to bring down the Berlin Wall to fit their own bigoted ideologies.
"I say to all those who go to such demonstrations: do not follow those who have called the rallies because all too often they have prejudice, coldness, even hatred in their hearts," Merkel said during the televised address.
Germany has experienced a wave of anti-Islamic activity since October; one demonstration in December drew more than 17,000 people. At the heart of the movement is a far-right group called Patriotic Europeans Against the Islamisation of the Occident, or PEGIDA, which is railing against what it sees as the complete Islamization of Germany and Europe. 
Chief among the movement's concerns is the influx of immigrants and refugees into Germany, but Merkel has argued that Germany's welcoming policy toward refugees is a moral obligation for the country.
"Worldwide there are more refugees than we have seen since the Second World War," she said Wednesday. "Many literally escaped death. It goes without saying that we help them and take in people who seek refuge with us."
While PEGIDA has drawn criticism from many Germans, particularly those within its main political parties, a recent survey found that 1 in 3 Germans supported the "anti-Islamization" marches. 
The group has adopted the phrase "Wir sind das Volk" ("We are the people"), which was used by anti-Communist protesters in the lead up to the fall of the Berlin Wall. But Merkel charged that PEGIDA's leaders were using the message to justify their own racist beliefs — "What they really mean is: You are not one of us, because of your skin color or your religion," she said. 
One banner at a recent demonstration read, "We want to reclaim our own country," while another blared "Beware Ali Baba and his 400 drug dealers," reported the Independent.
The group has stoked fears of neo-Nazism with its xenophobic ideology, but protesters insist that this isn't the case. 
"The main parties won't listen to us," one protester told the Independent. "If we complain about immigration the politically correct media writes us off as Nazis."
Merkel's strong message contradicted several other German politicians who had argued that PEGIDA's positions should be heard. Her former interior minister accused her of ignoring conservative issues, according to the Independent, and Alexander Gauland, an opposition party member, accused Merkel of "judging people who she does not even know, from on high."
But given the group's blatantly xenophobic message, Merkel's denouncement came at a welcome time, particularly as PEGIDA continues to gain momentum.
h/t the Independent