Pope Francis Has a Powerful Message for the World About Slavery and Human Trafficking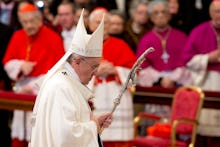 Pope Francis marked a powerful start to 2015 by condemning human trafficking and slavery in a mass at St. Peter's Basilica on Thursday. 
"All of us are called [by God] to be free, all are called to be sons and daughters, and each, according to his or her own responsibilities, is called to combat modern forms of enslavement," the pontiff said. "From every people, culture and religion, let us join our forces."
The service fell on the Catholic Church's World Day of Peace. This year's theme is "No Longer Slaves, But Brothers and Sisters." 
Francis urged for unity in the fight against slavery, arguing that it was up to all of us, no matter what religion, to put an end to the practice. "Slaves no more because wars turn us all into slaves," he said.
According to a November report from the Walk Free Foundation, an Australian human rights organization, there are almost 36 million people worldwide trapped in modern-day slavery.
In early December, Francis joined together with other religious leaders to promise an end to slavery and human trafficking by 2020. Calling it a "crime against humanity," the 78-year-old leader of the Catholic Church signed a declaration that pledged "to do all in our power, within our faith communities and beyond, to work together for the freedom of all those who are enslaved and trafficked so that their future may be restored."
The fight against slavery and human trafficking join other issues that have drawn the pope's attention, including climate change, corruption, cultural stereotypes and poverty.
"Peace is always possible," he said during Thursday's service, "but we have to seek it. Let us pray for peace."