Fox News Hosts Recommend the Worst Possible New Year's Resolution for Women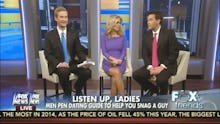 "New year, new you" apparently doesn't apply to Fox News.
The hosts of Fox & Friends added to the network's sterling record of disparaging women by offering up a fresh batch of 1950s-era sexism Thursday. 
During a segment on Single Man, Married Man, a new book about dating advice written by men, the three broadcasters shared a hearty chuckle about the gems found from the book.
"Ladies, we're talking to you. If you still don't have a New Year's resolution, could this be it?" co-host Clayton Morris began. He was referring to this prominent bit of advice from the book: "No matter where a woman was in life, she should always be able to cater to her man's needs." 
Co-host Ainsley Earhardt chimed in, noting that she did "want to be a better wife." The next bit of guidance came in the form of some good old-fashioned narcissism: "When he gets his ego stroked, he'll be more inclined to love you more."
"That's true!" Earhardt said. One way to do this? "Prepare his meals, draw him a bath and massage his feet every now and then."
While co-host Peter Doocy seemed a tad suspicious of the advice, Morris appeared to be all for it. "My wife is at home taking notes right now," he said. "Absolutely. She already does cook meals. She's a fantastic cook!"
The show even uploaded this helpful illustration to its Facebook page: 
While the sure-to-be literary masterpiece itself might be the most offensive part of the muddled segment — it suggests "someone has to wear the pants and someone has to wear the skirt" and that men feel more guilt over changing barbers than over cheating on their partners — the Fox & Friends crew couldn't find much time to point out these problems.
"My wife does cook, and she does give me foot massages," Morris said.
And we had such high hopes for 2015. 
h/t Raw Story