Leelah Alcorn's Parents Just Proved They Still Don't Understand Their Trans Child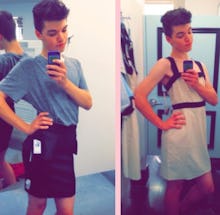 Leelah Alcorn via Tumblr
"I loved my son. People need to know that I loved him."
That's what Carla Alcorn wants the world to know, as she mourns the death of her child. It's an experience no parent should ever have to experience. But the tragedy is compounded in this case by a glaring disconnect. 
In a painful farewell message posted hours after she stepped in front of a semi, 17-year-old Leelah Alcorn said in no uncertain terms that she's a young woman — not anyone's "son." Indeed, the transgender teen said she could no longer bear what she described as social isolation and emotional abuse from her parents, who refused to affirm her womanhood.
Even in death, her conservative Christian parents refuse to acknowledge or accept their child's gender identity, revealing how far many parents still must go in learning to truly love their transgender children. 
In an interview with CNN, Alcorn's mother all but confirmed some of the issues Leelah described in her notes, namely the non-supportive environment of her home. Carla Alcorn said she and her husband "don't support that, religiously. But we told him that we loved him unconditionally. We loved him no matter what. He was a good kid, a good boy."
At no point does Carla Alcorn use feminine pronouns or describe Leelah as her daughter. She doesn't even acknowledge her name, claiming that the first time she heard it was in the farewell note. "He never said that name before," she told CNN, claiming Leelah only talked to her once about being transgender. 
The same could be said for Leelah's father, Doug, who wrote to a local news station after they showed up on his doorstep. Reportedly, the family refused to speak at the time.
The emailed message, titled "Joshua Alcorn and your visit this morning," included a brief statement: "We love our son, Joshua, very much and are devastated by his death."
"I simply do not wish our words to be used against us."
Leelah crossed out her birth name in the goodbye message on her Tumblr page. Although her parents are understandably grieving a major loss, these public statements highlight a terrible truth: Even in death, Leelah's parents are remembering their child in a way that she would likely not wish to be remembered — not for the woman she is, but for the teenage boy her parents wanted her to be. And the family has yet to make memorial service plans, as Carla Alcorn told CNN, because people have threatened to protest.
A large part of the outrage stems from Leelah's claims of being sent to Christian therapy against her will, where she was pushed to identify as a boy who loved God. In a post on Reddit Leelah apparently wrote two months ago, she had appealed for help: "I would cry after every session because I felt like it was hopeless and there was no way I would ever become a girl." 
Now, she's gone. 
This tragic death should make clear to all parents that their transgender children need to be given support and empathy — rather than strongly imposing their own will for who they want their child to become.