One Fashion Magazine Just Ended 12 Years Of Exclusion In a Beautiful Way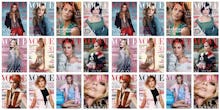 How do you solve fashion's racial diversity problem? Vogue U.K. has finally stumbled upon a stunningly simple answer: Put black models on covers.
The British edition of Vogue has ended its shameful run of homogenous cover models by casting Jourdan Dunn, one of the industry's top faces, for its February cover. The news, which Dunn announced Friday on Instagram, comes weeks after Vogue U.K. was called out by the Fashion Spot for going a stunning 12 years without casting a black model for a solo cover. 
The last black model to cover Vogue U.K. solo was Naomi Campbell in August 2002.
Most fashion magazines still select a disproportionately white cast of models and celebrities for their covers, with certain notable faces serving repeat token appearances — Beyoncé accounts for an outsize proportion of celebrity covers, while the aforementioned Campbell tends to make the most appearances of any black model. (In fact, the latest black celebrity to cover British Vogue was Beyoncé in May 2013.)
But Vogue U.K. was the most egregious offender by the Fashion Spot's count, prompting the site to note, "One of Britain's most prominent and in-demand models, Jourdan Dunn, wasn't afforded a cover, despite her impressive body of work and overall popularity." Dunn is arguably the most popular British model today, along with pal Cara Delevigne, and was among the top-searched models on Google in 2014.
Dunn's absence from her native country's biggest fashion magazine has been conspicuous, prompting critics to wonder about Vogue U.K.'s race problem. Now Dunn finally has earned her long overdue cover — and Vogue U.K. has broken an embarrassing streak.
Putting models of color on covers is not, of course, a panacea for industry racism. Fashion is still woefully lacking in racial and ethnic diversity on all fronts, from the models who walk Fashion Week runways to the designers behind the scenes creating the clothes to the executives who steer the brands. The lack of inclusion has even trickled down to the store level, as evidenced by at least three different charges of racial discrimination launched by shoppers in 2013 at Barneys New York and Macy's.
Moreover, the choice of Dunn, while deserving given her professional accomplishments, still doesn't counter other pervasive fashion discriminations, including the preference for lighter skin. Colorism still runs deep, as skin-lightening controversies surrounding Gabourey Sidibe reminded us. As magazines push for true diversity, that must include a diversity of skin tones, including legitimately dark ones.
But as the Guardian's Tasny Hoskins wrote in August lamenting Dunn's notable exclusion, "The last 12 years of side-lining black models reflects the attitudes of those at the top of the fashion industry, not those of fashion fans. The fashion industry has a problem with race which goes far beyond just fashion magazine covers, however ending years of cover discrimination would be an important step." 
Magazine covers matter because they're so public, perhaps more than any other facet of fashion. It means that diverse faces on covers can make an impact on the millions of people, particularly young women, who see them each month. It also means that when readers buy magazines, they're essentially voting with their wallets — and in doing so, they chip away at the lame justification used to discriminate against black models in the first place: They "don't sell."
False. From Lupita Nyong'o on American Vogue to Kerry Washington on Vanity Fair, women of color have earned positive responses from readers, not to mention have shown no measurable impact on sales. Fashion magazines have no reason to keep black women off their covers; on the contrary, putting them there is a powerful step to stemming the tide of exclusion in an industry that's all about appearances. 
Congrats to Dunn — and to one more magazine finally introducing itself to the beautiful concept of diversity.