Revlon's CEO Believes He Can "Smell" Black People — And Twitter Had the Perfect Response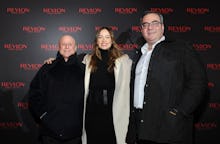 According to a lawsuit, Revlon CEO Lorenzo Delpani thinks he can "smell" black people when they walk into a room, detests "small-minded, dirty" Americans and believes all Jewish people "stick together."  
The court documents, filed by former Revlon chief scientific officer Alan Meyers, allege that the Italian-born Delpani made the disparaging comments in 2013 shortly after taking over the company. According to the suit, Delpani's remarks about being able to "smell" black people came after a visit to South Africa; Meyers also claims Delpani said he was "shocked" there weren't more Jewish people working at Revlon because the largest shareholder is Ronald Perelman, a Jewish American. 
"Jews stick together," Delpani allegedly said, adding that "thankfully," Perelman "is not like that anymore."
The lawsuit also details Delpani's hatred of Americans and his desire to go back to a "real" country, as well as an alleged tirade in which he claimed the United States is slowly turning into the Islamic State, the New York Post reports.
Twitter is having a field day. Following the news of the lawsuit, the hashtag #ShadesOfRevlon began trending on Twitter:
Remind you of anything? The lawsuit against Delpani brings to mind other high-profile figures making hideously offensive statements. In 2011, Dior head designer John Galliano was recorded in a Parisian restaurant claiming that he "love[d]" Hitler, and that "Your mother, your forefathers would be [expletive] gassed and [expletive] dead."
Then there was Donald Sterling debacle last year, in which the Los Angeles Clippers owner was taped telling his girlfriend he didn't want her "associating with black people" or "[bringing] them to [his] games." And in 2013, celebrity chef Paula Deen admitted to using the N-word in a deposition for a lawsuit filed against her by a former employee.
Both Sterling and Galliano went on to lose their positions as a result of their tirades, and Deen is still attempting to claw her way back from the incident. 
As for Revlon? The New York Post reported that a company spokeswoman said Meyers was merely a disgruntled employee: "Mr. Meyers repeatedly demonstrated critical lapses in judgment and failed to perform at the high standard we demand of our employees."