These New Snoop Dogg Songs Are Exactly Why He's One of Rap's Great Legends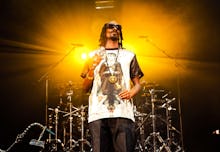 After years of transformations, reincarnations and name changes, it looks as though Snoop Dogg may finally be settling down.
On Wednesday, the Long Beach legend released two new tracks in collaboration with musician Dâm-Funk. It's the best the rapper has sounded in a long time, like himself again.
It's been a while since we've heard good-old laid-back and funky Snoop. He created the high school stoner character Mac in 2012 for the stoner film Mac and Devin Go To High School and accompanying album with Wiz Khalifa. Later that year, the Dogg took a trip to Jamaica and came back a Lion, releasing an obscenely hyped-up reggae album in spring 2013. Neither project was well-received.
Then, in December 2013 he became Snoopzilla, releasing 7 Days of Funk, his first project with Dâm-Funk. Despite the absurdity accompanying yet another name change, that album was actually the most comfortable and organic Snoop we'd heard in years. The beats were filled with bouncy Parliament samples that sound so good with Snoop's smooth flows. Snoop seemed revitalized, and the sound was fresh as ever.
These new tracks pick up where 7 Days of Funk left off. There's no word on whether these are part of another full project. Snoop and Dâm-Funk are apparently making music whenever they have time to "relax and chill." That may be why the music sounds so effortless and free. It's fun, funky and fresh, and thankfully as far from Snoop Lion as one can get.
Correction January 2, 2015: An earlier version of this article suggested that Snoop Dogg was born in Compton, Calif. He was born in Long Beach, Calif.