One Survey Reveals Just How Much Colorado Loves Its Legalized Marijuana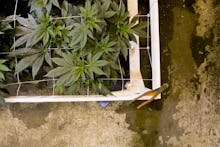 Colorado is still riding that Rocky Mountain high.
A year after legalizing the possession and recreational use of marijuana, most Coloradans who supported the end of prohibition say they wouldn't hesitate to vote the same way again. Although they haven't changed their mind on that vote, they aren't completely content with how everything rolled out.
While more than 90% of those who voted in favor of legalizing pot said they would vote again for Amendment 64 — the landmark measure allowing adults to legally possess up to an ounce of marijuana — more than a third also said the state's reputation has suffered from the decision, according to a Survey USA poll from the Denver Post:
And this isn't the only aspect Coloradans aren't thrilled about. While residents are divided on how well the state has regulated the pot industry, nearly two-thirds rank the state's efforts to educate youths about marijuana as "fair or poor."
But aside from the kinks that still need to be worked out, for most the highs outweigh the lows. 
"I'd say there's still a lot of work to be done, especially if the priority is to keep it out of the hands of children and away from drivers, to make sure people are not driving intoxicated," Denver resident and poll respondent Dan Derlau told the Durango Herald. "But despite those shortcomings, in general, people who worried the sky would fall have been proved wrong."
Contrary to predictions that marijuana use would skyrocket upon legalization, 70% of those polled said their "level of use had stayed the same." Moreover, it's not just potheads who support the legalization of marijuana or who think that the vote has brought with it positive impacts — 59% of non-users voted for legalization and can see the benefits of that decision.
While those who say that the decision negatively impacted the state's reputation, 31% think the vote improved Colorado's image, and 22% said it didn't really have much of an impact. People reported that they think legalization has driven more tourists to the state and also created the impression that Colorado has a strong economy and an abundance of jobs. And the greatest benefit of all, according to 55% of respondents? Those millions of dollars in tax revenue, which Coloradans agree is, well, pretty dope.
h/t Durango Herald