We Fixed This Sexist List of the World's Most Influential Economists So You Don't Have To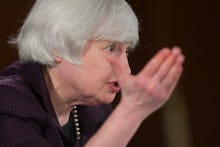 Twice in one week, influential magazine the Economist listed the "top economists" of the last quarter of 2014. Both times, they were unable to find a single women worthy of the list, despite noting the criticism they received for doing so.
"We wanted to see whose voice counted most in the public arena," the magazine wrote. "But we wanted to try and get a bit crunchier than that, so decided to look specifically at which economists' opinions have had most impact online." The lack of women, including Federal Reserve Chair Janet Yellen, was explained away by a variety of caveats (for example, the exclusion of "serving central bank governors").
This, frankly, is bullshit. Even though this field is notoriously sexist and has a statistical dearth of female PhDs, there are in fact plenty of impactful female economists who are active presences online. As for the exclusion of arguably the most influential economist in the world, several writers, including Amanda Marcotte over at Slate, have noted how curious it was that "the criteria was somehow just broad enough to include [high-powered male members of the Federal Reserve] but just narrow enough to exclude Yellen."
Luckily the Twitterverse decided to take matters into its own hands. 
First, Mic reached out to Justin Wolfers, No. 13 on the list, who helpfully offered a few personal additions. (Wolfers, it should be noted, is the partner of Betsey Stevenson, a member of President Barack Obama's Council of Economic Advisers and one-half of what the New York Times called an economics "power couple." Stevenson was not included on the list.)
He then encouraged people to contribute their own suggestions, and the reaction was pretty overwhelming. Here are just a few responses proving that there are plenty of viable, intelligent and successful female economists making an impact in the world — if you want to look for them:
These suggestions also dovetail nicely with the Federal Reserve Bank of St. Louis' Research Division's list of top female economists, updated through November 2014, that includes almost 400 women. 
Ultimately, the Economist's twice-baked snafu highlights not only the pervasiveness of sexism in science, technology, engineering and math, inadvertent or not, but also how it has become acceptable practice to ignore and overlook female experts in these fields. 
Blaming the media for its oversight, of course, is not the solution. Sure, it's not The Economist's fault that the economics profession is largely dominated by white men who hog all the headlines. But the magazine had the opportunity here to prove stereotypes wrong by including women on their list. Instead, they acknowledged and then casually perpetuated the problem.