Madonna's Racist Instagram Posts Prove She's Still 'Hung Up' On Cultural Appropriation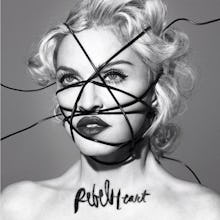 Sorry Madge, no amount of Photoshop will put you on equal footing with Nelson Mandela.
As part of her "Unapologetic Bitch" tour and the launch of her album Rebel Heart, the superstar posted a series of photos in which she manipulated iconic photos of civil rights leaders like Martin Luther King Jr. and Nelson Mandela into the odd, BDSM-inspired chords that bedecked her own visage on the album. 
Here's the original:
Here's a manipulated image of King in the Madonna get-up:
They say there's no such thing as bad publicity, and Madonna is no stranger to it. But these pictures are offensive, especially given the national conversations we've been having about the need for racial equality. 
As Jezebel's Julianne Escobedo Shepherd wrote, Madonna's track record when it comes to tone-deaf statements on race is horrible, especially from someone with such an impressive platform: "Unfortunately, historically Madonna's non-apologies are complicated by the fact that she is often racially insensitive and a longtime cultural appropriator, and her latest Instagram photos are no exception."
Indeed, the aging "Like a Virgin" diva has been criticized for stealing "voguing" from black drags,  appropriating parts of Indian cultures in music videos and her invocation of Arabic while wearing a stylized niqab in several Istagram posts. 
To add insult to injury, it's only been a little while since she apologized for using the N-word to describe her son. Has she not learned anything?
If you're a rich white celebrity, comparing yourself to a black icon is never a good idea. Doing it in a transparent attempt to boost record sales is even worse. In an effort to stay relevant, Madonna has just shown how out of touch she really is.
h/t Jezebel