President Obama Has Announced North Korea's Punishment for Hacking Sony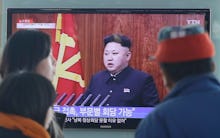 North Korea is getting sanctioned — and that's just the beginning.
In an executive order, President Barack Obama has authorized the Treasury to impose additional sanctions on North Korea as "the first aspect" of a response to North Korea's alleged hacking of Sony, which the White House views as part of "ongoing provocative, destabilizing and repressive actions and policies," according to a statement.
The Obama administration reiterated an earlier declaration that the U.S. response to North Korea would "be proportional, and will take place at a time and in a manner of our choosing." According to CNBC, the newest sanctions affect three North Korean government organizations and non-official entities: the Reconnaissance General Bureau (military intelligence), the Korea Mining Development Trading Corporation (labelled by the Treasury Department as the "primary arms dealer and main exporter of goods and equipment related to ballistic missiles and conventional weapons") and defense contractor Korea Tangun Trading Corporation.
Obama has also ordered the sanctioning of 10 people, who are now barred from using U.S. banks or doing business with American corporations or citizens, according to the Associated Press.
"The actions taken today under the authority of the president's new executive order will further isolate key North Korean entities and disrupt the activities of close to a dozen critical North Korean operatives," said Treasury Secretary Jack Lew. "We will continue to use this broad and powerful tool to expose the activities of North Korean government officials and entities."
Will these sanctions have any effect? North Korea is the world's most sanctioned country — there's arguably not that much left to cut off. The U.S. government has also made no attempt to link the sanctioned entities or individuals to the actual hacking of Sony (North Korea may not have even done it), making it unlikely that the people feeling the pain from these new sanctions were the perpetrators of the email leaks and terrorist threat in the first place.
The announcement comes just two weeks after Obama upended decades of U.S.-Cuba relations by normalizing diplomatic relations and advocating the repeal of sanctions, which he described as having "had little effect beyond providing the Cuban government with a rationale for restrictions on its people."
Whether these new sanctions on North Korea's government will push leadership back to the international negotiating table remains to be seen, but if past is prologue, we wouldn't bet on it.