Idina Menzel's Response to Criticism of Her NYE Performance Deserves a Standing Ovation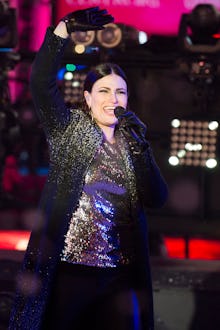 She's won a Tony, created two of the most iconic roles on Broadway and sung the empowerment anthem that even lost Amazonian tribesmen know by heart, but Idina Menzel still has her detractors — and she's hitting back with a heartfelt defense of live performance.
It all started on the set of ABC's Dick Clark's New Year's Rockin' Eve, where Menzel (who also goes by the name Adele Dazeem) was booked to perform "Let It Go" from Frozen (maybe you've heard of it? something about a snowman?) in New York's Times Square on Wednesday. The Broadway veteran, who originated the roles of Maureen in Rent and Elphaba in Wicked, had... well, a little trouble with the song's last high note:
Ouch.
We've all been there — only when we were screeching that E-flat fifth, it was alone in a warm shower, and not in frigid Times Square in front of 1 million of our closest friends. The fact that Menzel has been hitting high notes since most of Frozen's fandom was wearing OshKosh B'Gosh meant little to her detractors:
Menzel, the voice of the most successful animated movie in history, tweeted the perfect response to the criticism on New Year's Day, with the caption "This is something I said in an interview a few months ago":
"There are about 3 million notes in a two-and-a-half-hour musical; being a perfectionist, it took me a long time to realize that if I'm hitting 75 percent of them, I'm succeeding," she said. "Performing isn't only about the acrobatics and the high notes: It's staying in the moment, connecting with the audience in an authentic way, and making yourself real to them through the music. I am more than the notes I hit, and that's how I try to approach my life. You can't get it all right all the time, but you can try your best. If you've done that, all that's left is to accept your shortcomings and have the courage to try to overcome them."
Menzel gets what live theater is all about: It's not about getting one Auto-Tuned rendition out in a recording studio and lip-synching it for the rest of time. It's about touching an audience with your character, your story and your voice. In an interview with Playbill, Menzel agreed that the song is a challenge ("I will always embrace it and love it and enjoy singing it, even if it's too fucking high if I put it in the wrong key!"), which is why her continued performances are so impressive. If it were easy to do, then Disney could have cast the runner-up on Legally Blonde – The Musical: The Search for Elle Woods as Elsa and saved itself the trouble.
Fellow Broadway baby Megan Hilty backed Menzel up:
As for the perfectionists? Let it go.