There's Great News For People Who Still Listen to Music the Old-Fashioned Way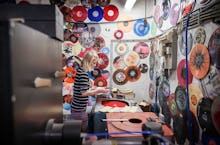 Every year the same news item shakes the music industry — and this year was no different. For the seventh straight year, vinyl sales have broken their own record by selling more than any other year since 1991 when Nielsen started tracking sales. 
It's more clear than ever: Vinyl isn't a hipster fad — it is actually a revolution in how we listen to music.
The form made some especially huge gains this past year. Sales grew 52% from 2013, up to 9.2 million copies from 2013's 6.1 million; 3.6% of all of 2014's album sales — on all formats — were vinyl, compared with 0.2% 10 years ago. Last year's top-selling vinyl album was also the highest-selling vinyl album we've seen since Nielsen's beginnings: Jack White's Lazaretto, which moved 87,000 units. That album also set a record by garnering the biggest first sales week for any vinyl album.
It's fitting that White took home the year's biggest vinyl accolades, as he has long been one of the foremost advocates and innovators of the form.
"Vinyl is the only thing that's rising because I think it's the only thing that the real music lovers are attaching themselves to," White told Entertainment Weekly in 2011. That year, vinyl sold 3.9 million but still shattered records. "It's a tangible format that has lasted this long for a reason, because it still sounds the best, it still feels the best. There's an inherent romance to it."
His label Third Man Records has been working diligently to deepen this romance for fans. They've been conducting some of the most intriguing vinyl pressing experiments to stir up new intrigue for the form. Lazaretto's "ultra LP" version is by far the most sophisticated vinyl ever made. It features hidden tracks pressed under the album's label and hand-etched holograms that move while the record spins, the first record to ever include either of those features. It also has two alternate intros for the first track on Side B, one acoustic, one electric. Which one listeners hear depends on where they drop the needle.
Vinyl's surging popularity comes as no surprise to many of the industry's biggest players. Luke Wood, president of Beats Electronics, claims a "new age in audio fidelity." "Young people today are getting fatigued of music just meaning a huge hard drive," Wood said. "They want more of an experience, and putting a record on provides that."
Recent experiments in audio fidelity proved the truth of Wood's words. The high audio quality of vinyl does have the potential to create a much more powerful intellectual and emotional experience in the listener.
Audio researchers at DTS proved last year that musical quality has a powerful impact on listeners' emotional response. They found that listeners watching videos accompanied by higher quality 256-kbps sound showed 14% more powerful responses on metrics measuring memory creation and 66% higher on pleasure responses, compared with listeners standard 96 kbps (Spotify's default audio setting). Listening on vinyl — which is by nature high quality — makes a difference.
Vinyl records also counteract the fleeting quality of most modern musical experiences. Between the methodical process of cuing up a record, the larger art, the warm nostalgic buzz of the needle on wax, vinyl holds the power often denied by our increasingly digital world. These elements create a much more focused and impactful musical experience than something like streaming, which generally encourages a much more scattered, distractible listening approach.
In truth, we need slow listening forms of listening to music now more than ever. It's heartening to see that America feels the same. Vinyl is not just a hipster nostalgia fad — it's a new musical mainstay, and it's not going anywhere anytime soon.
h/t Billboard