9 Eye-Catching Photos That Will Make You Rethink Your Weight Loss Plans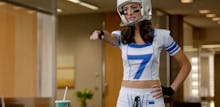 Another new year, another set of weight loss resolutions.
Studies show only 8% of people actually stick to their resolutions. But for many who vow to lose several pounds in the near year, that may not be such a bad thing after all. Why? Because more often than not, the idea that weight loss leads to more happiness is one that has been insidiously planted and promoted in our heads by savvy marketers eager to sell products through self-loathing. 
According to a study published in 2002, roughly 92% of women feel pressured into conforming with the beauty standards commonly perpetuated in mainstream media. After viewing images of women who fit the so-called ideal, 95% of women overestimate their body size. Unfortunately, these advertisements can't just be laughed off as sticks and stones, because the unrealistic and limited images hit at deep insecurities about body weight. 
Men too struggle with body image issues (although they may be too ashamed to admit it). However, the issue in mainstream media disproportionately impacts women. But mainstream body-shaming goes far beyond individual body image, these harmful and unrealistic standards also encourage people to criticize each other.
2014 featured a plethora of moments, big and small, that reinforced society's toxic, body-negative environment. So the next time you look at the new year's resolutions list, maybe take a second to think about who really benefits from your January dieting frenzy.
Victoria's Secret showed everyone its idea of the "perfect body." 
The slogan itself was primarily aimed at promoting the brand's new line of bras, but the full bodies appearing on the ad made a secondary message abundantly clear — that the "perfect body" requires an almost fat-free frame. Not surprisingly, some women responded in outrage, forcing the company to change the campaign to "A Body for Every Body."
But as Mic's Ellie Krupnick reported, the gaffe from Victoria's Secret may have had a silver lining, as it opened the door for more body-positive voices like the underwear brand Dear Kate to become better known to people who appreciate body diversity in advertising: 
Carl's Jr. continued its tradition of sexist food shaming.
In the latest of many sexist advertisements from the fast-food chain, X-Men's shape-shifting seductress Mystique gazed longingly into the Western X-Tra Bacon Thickburger. But she doesn't take a single bite, instead morphing into a square-jawed, stubbled, muscular man who mercilessly chomps into the sandwich. Taking it a step further, the ad instructs audiences to "Man up for 2X the bacon." 
Not only does the ad suggest that it takes a man to eat a big cheeseburger, it strongly suggested that it's more ladylike to refuse to do so, saving herself and her slim figure, presumably so that she can later be "enjoyed" by her manly partner. 
Brandy Melville confused "one size fits all" for one size fits small.
The latest brand to engage in the "cool kids" marketing technique that encourages exclusivity based on body weight, Brandy Melville implied prestige can only be attained by the thin. According to the Huffington Post, Brandy Melville was one of the fastest-growing brands among teenage girls last year, ranking well ahead of established stores like H&M, American Eagle and Hollister, as measured by market research firm Piper Jaffray. 
But that popularity may come with a cost, as the emerging chain's stores' one-size policy claims that a size small should "fit most."
Target fell for the "thigh gap" trend.
In an online advertisement for the "Xhilaration Junior's Midkini 2-Piece Swimsuit Leopard Print," something appeared unnatural. Shoppers took a closer look and realized the big box chain had a bit of a photo-editing mishap.
What's worse? The fashion faux pas also promoted a dangerous and virtually unattainable body myth. The "thigh gap" artificially created in this and other images is one popularized on many "thinspiration" and pro-anorexia blogs. In recent years, online communities have coalesced around disordered eating and exercise, behaviors often geared toward perfectly toned upper thighs that don't rub together. 
And Urban Outfitters unfortunately followed suit.
Just as the year was ending, Urban Outfitters slid in under the wire with its own the last-minute controversy at the end of December. The U.K.'s Advertising Standards Authority ordered the chain to remove images from its website that were deemed "unhealthily thin" based on complaints that were affirmed by the group's ruling. Indeed, many of the images were edited with photo software to display the thigh gap. 
"We understood that Urban Outfitters' target market was young people and considered that using a noticeably underweight model was likely to impress upon that audience that the image was representative of the people who might wear Urban Outfitters' clothing, and as being something to aspire to," the ASA said, according to the Daily Mail. "We therefore concluded that the ad was irresponsible."
Old Navy forgot what plus-size actually means...
Tumblr blog WTFPlus made the initial discovery in March, after an eagle-eyed shopper noticed an online advertisement for a plus-size women's pair of jeggings with a prominent thigh gap. Although the chain said that the gap occurred because of pinning on the mannequin, various observers called Old Navy's bluff. 
Now, the same advertisement appears on the website with the thigh gap closed.   
...and then made women pay more for their plus-size options.
Adding insult to injury, it was also revealed that the chain also charges more money for women's plus-sized clothing, prompting a Change.org petition urging Old Navy to change its practices. But the company responded saying the higher price "reflects the selection of unique fabrics and design elements" intended to "enhance" and "flatter" curves such as stretch materials and contoured waistbands. Still, after 90,000 signatures kept the pressure on, Old Navy responded by announcing the first in a set of major changes, including the creation of an advisory panel of women who wear plus sizes. 
La Perla starved its mannequins.
Those passing by the high-end lingerie store La Perla in New York City complained that the store's mannequins were extremely thin — so much so, in fact, that their ribs were sticking out of their bodies. 
Some believed the displays idealized eating disorders, particularly anorexia. In reality, few people can remain this thin in appearance and weight while also maintaining good health. 
Subway reminded women that a good Halloween is a skinny one.
Aside from encouraging people to "eat fresh" last fall, Subway's Halloween advertisements suggested that women should eat the chain's calorie-conscious food so they don't gain weight before the holiday. The concept itself engages in food-shaming, as the commercial's star admonishes her McDonald's-eating female colleagues: "You gotta stay in shape for all the costumes." 
Whether it's at the beginning of a new year or the end, the reality is that there's health, beauty and happiness at every size. The decision to change eating habits or increase physical activity should be based on what's best for each individual, not the whims of the fashion and pop culture industries. So before diving in headfirst into juice cleanses, fasts or a gym membership that may go unused, take some time to reflect and practice healthy self-affirmation, instead of falling for the latest tricks of an old industry built to profit from invented insecurities.