Saudi Arabia May Be Taking Misogyny to the Skies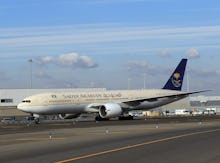 The calendar may have just flipped to 2015, but Saudi Arabia is partying like it's 1755. 
The Daily Mail reports that Saudia, the kingdom's national airline, will introduce gender-segregated flights. Except close relatives, men and women flying on Saudia can reportedly look forward to assigned seating based on their naughty bits.
The discriminatory practice stems from multiple complaints lodged by male fliers who were unhappy that other men were allowed to sit next to their wives and female family members. Some men also objected to the conduct of a female flight attendant, which they deemed too "flirty."
The change was first reported by Gulf media outlets, according to the Daily Mail. "There are solutions to this problem," Saudia assistant manager for marketing Abdul Rahman Al Fahd told Ajel, a Saudi Arabian newspaper. "We will soon enforce rules that will satisfy all passengers."
The airline will apparently include orders for flight-booking staff on the ground to make sure men and women are separated, Emirates247 reports. According to Mashable, however, a marketing manager for the airline is denying their plans to segregate passengers.
Saudia already follows a variety of religious practices onboard, including the prohibition of alcohol and pork dishes and reading a Quran verse before takeoff. The airline also chooses not to hire Saudi women to work as cabin crew.
Similar complaints have been heard on flights traveling to Israel. In September, a flight headed to Tel Aviv from New York was delayed because several ultra-Orthodox Jewish men wouldn't sit next to women who weren't family members; more recently, a Delta flight was delayed for half an hour because ultra-Orthodox men refused to be seated next to women, and other passengers wouldn't change seats with them.
One Chicago woman started a petition on Change.org to stop the practice of forcing women to change seats, arguing that "one person's religious rights do not trump another person's civil rights."
She's right, and the same could be said of discriminatory rules like those that Saudia reportedly plans to introduce. But given its already troubled history of the treatment of women — it was ranked the third-worst country in the Arab world for women — these new guidelines unfortunately appear to be more of the same. 
Mic has reached out to Saudia for comment but received a message indicating that the company's inbox was full. We'll update if we hear back.
h/t Daily Mail