Sweden's 'Love Bombs' Are An Amazing Response to Islamophobia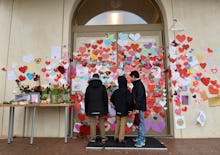 After the firebombing of three mosques in Sweden over the week of Christmas left five worshippers wounded and Muslims across the kingdom afraid to attend religious services, thousands of Swedes have turned out at a rally in Stockholm with a powerful weapon against Islamophobia: "love bombs."
As reported by the Independent, thousands of Swedes gathered to condemn the attacks across the country under the banner "Don't touch my mosque" after the spate of anti-Muslim attacks, which included the scrawling of "Go home Muslim shit" in graffiti across the edifice of an Uppsala mosque wall, which had been targeted with a failed Molotov cocktail the night before. In response, hundreds of Uppsalans pasted cut-out hearts and messages of love onto the mosque's entrance before Friday prayers.
Tolerant Sweden has seen a spate of anti-Muslim attacks following a rise in xenophobic sentiment during debates over immigration, a surge of "Swedish exceptionalism" that has elevated a former neo-Nazi political party to the nation's third-largest. 
"There have been a lot of scary things happening lately, but it's important to remember that there's a lot more happening than the series of attacks this week. Muslim women on the streets of Sweden are getting harassed almost daily," said Omar Mustafa, president of Sweden's Islamic Association.
Mustafa points to the Instagram account "Muslimskkvinna" (Muslim women), which shows images from the daily lives of Swedish Muslim women. Recent posts are a good indication of the rise in Sweden's anti-Muslim climate:
Following the attacks, Swedish police announced increasing monitoring of mosques, a move Mustafa appreciates. 
"I'm happy about the attention this has got from both the government and the police," he said. "I can only hope the public takes it seriously too and can propose some way of beating this hate and terror that Muslims experience in their daily lives."