Africa's Greatest Animals Are Being Poached in Record Numbers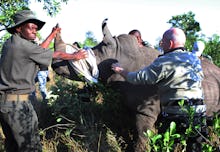 A record number of rhinos were killed last year in South Africa, a death toll that has scientists worried about the future of the species.
Government estimates show that 1,020 rhinos had been killed for their horns through mid-November, according to CBC News. South Africa, home to 90% of the world's rhinos, is ground zero for poaching and protection of the creatures.
That already eclipses the previous record of 1,004 in 2013. Some think last year's total could pass the 1,200 mark. To put the huge increase in perspective, only 333 were killed in 2010.
The background: Rhino horns are prized as medicinal ingredients in Vietnam and China. That's why the horn can draw $65,000 a kilo, according to CBC.
At those prices, it's enticing for people to sneak into Kruger National Park, the country's largest such park, to illegally kill the animals. The South African government has plenty of reasons to protect rhinos — not just for ecological reasons, but because parks like Kruger are among the country's top tourist attractions.
The swift rise in poaching is thanks in large part to economic development in China and nearby countries that prize the horns. The more money people have, the higher the demand for traditional medicine, leading to more rhino deaths.
Not just rhinos: One of Sub-Saharan Africa's other well-known animals, the African elephant, is also in danger thanks to poaching increases.
Despite international pressure on the ivory trade, elephants are being slaughtered for their expensive tusks. 20,000 were killed every year from 2011 to 2013, according to CBC, and 2014 numbers aren't expected to look much different.
Back in October, protesters in 136 cities, including 17 in South Africa, called on governments to do more to stop poaching. 
"We are protesting against the political leaders of the world, who do not have the guts and political will to make changes in their laws," organizer Dex Kotze told the Guardian. "We have to do this for our future generation."