Forget Porn — Here's Where Men Should Actually Be Getting Their Sex Tips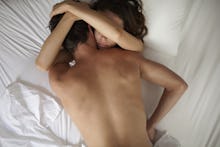 From women.
It's well known that people all over the world watch a lot of porn — after all, porn sites reportedly have more visitors each month than Netflix, Amazon and Twitter combined. Research also suggests that men do the majority of the watching, with 25% of men being online porn watchers compared to 8% of women, according one Pew Research report. It's not surprising, therefore, that what's happening onscreen is finding its way into the bedroom. 
And that's unfortunate.
Porn is certainly not to blame for all hard-core bedroom behavior, but it's also not a good replacement for a medically accurate sex education course (which only 19 states require public schools to teach, by the way), leading to a lot of sexual misinformation — from setting unrealistic expectations of what their female partners will look like to influencing the extreme nature of what men themselves decide to try, something plenty of women have experienced and many men have admitted.
The simple solution? If you want to improve your bedroom moves, the best guidance is likely to come from the person you're trying those moves on. Because no matter what your gender, orientation or chosen partner, the key to good sex is learning from your partner what they want — not trying to mimic a move that's been staged anyway. 
Porn doesn't have to be shunned, but neither should it be taken as reality, as recent campaigns such as #weneedtotalkaboutporn demonstrate. With that in mind, here are some crucial pieces of knowledge any man looking to have sex with a woman should know. 
Foreplay seriously matters. 
In porn, things can go from zero to 60 — that is, from a single kiss to serious sex — in what seems like seconds. In reality, jumping in that quickly can not only be painful for women, it can also lower their chance of orgasm.
Arousal before intercourse is key to the female orgasm. A 2012 study on sexual touching, arousal and orgasm found that the odds of being unable to climax are more than two times greater among women who sometimes, rarely or never engaged in sexual touching before intercourse, compared to women who always did. 
Moreover, studies by Marta Meana, president for the Society of Sex Therapy and Research, have found that being desired is the source of a woman's desire. Foreplay is the perfect time to illustrate this desire. As certified sex therapist and Psychology Today columnist Sari Cooper told Women's Health, "Heading straight to the clitoris gives [women] a less pleasurable orgasm than if your partner touches, caresses or massages other parts of your genitals before he hones in on that hot spot." 
Use lube. Really, do it.
Lube isn't usually a supporting actor in porn, but it should be. While foreplay is important to increase moisture, self-lubrication isn't always enough for many women. Even when turned on, lube can help make sex less painful or simply more enjoyable for both partners. 
A 2010 study found that participants who used lube reported "significantly higher" levels of sexual pleasure. Another study (released by Trojan Lubricants, it should be noted) found that 82% of users report experiencing more pleasure when they lube up. Happily, a separate survey found that plenty of men and women are using it, which is great news.
Even if you're not having sex, using lube on the clitoris will create a slippery sensation that allows fingers to slide over the clitoris instead of tugging. Speaking of which... 
Orgasms don't happen right away — or at all.
It shouldn't be shocking that most of the women in porn are faking their orgasm (it is a paid film role, after all). What is disappointing is that so many women off-camera feel the need to as well — research suggests that up to 80% of women are faking their climax for a variety of reasons. 
The reason may be that while some porn shows women coming after mere minutes of sex, in reality the average woman needs around 20 minutes to reach orgasm, while men only take seven to 14.
Many women can't get off from vaginal intercourse alone. 
Even twenty minutes likely isn't enough if you're relying on penetrative intercourse alone. The National Survey of Sexual Health and Behavior from Indiana University found that women tend to require a variety of sexual acts to achieve orgasm, and studies show that most women have a hard time coming from typical penis-in-vagina sex. 
A comprehensive analysis of more than 33 studies from the past 80 years, gathered in the book The Case of the Female Orgasm, revealed that only 20% to 25% of women reliably experience orgasm during penetrative intercourse — no matter how long it lasts, the size of the man's penis or the woman's mental state. 
One key to upping those odds is clitoral stimulation. There are about 8,000 nerve endings congregated in the clitoris, around the same number as in the penis in about one-tenth the space. In porn, when men do touch the clitoris, they often rub it like they're trying to light a fire. In reality, gentle strokes are the most likely to result in orgasm.
But orgasming isn't the be-all and end-all, anyway.
Even with clitoral stimulation, overstimulation or the wrong kind of stimulation can kill the orgasm. Thanks to all these factors, women orgasm only about 80% as often as men in relationships, and a mere 50% as often as men in casual hookups. 
While this orgasm gap isn't ideal, orgasm isn't the only part of sex that matters. While porn makes at least one orgasm per scene a seeming prerequisite, a 2014 study on sexual satisfaction found that focusing solely on achieving orgasm during sex can actually detract from pleasure. 
Many women have anxiety about reaching orgasm or taking too long, which only makes an orgasm more difficult to achieve. But this doesn't mean they don't enjoy the sex. 
You don't need to constantly switch positions. 
This isn't Olympic gymnastics, and no one's going to score you. The constantly changing positions in porn will make sex more challenging, but not necessarily more rewarding. These constant transitions can disrupt the sexual momentum that needs to build for a woman to orgasm. 
As Debby Herbenick, author of Sex Made Easy, told Bustle, "In order to stay present during sex — a key component to orgasm for women — if something feels good, just keep at it." Steady strokes are more likely to pleasure a woman than positions with yoga class-style flexibility tests. If you are looking to mix things up, there are positions you can try that are most likely to stimulate female orgasm. 
Longer, harder or bigger isn't always better.
Since vaginal intercourse isn't likely to result in orgasm alone, the various factors impacting P-in-V sex aren't necessarily important for pleasure. In other words, a bigger penis isn't always better; neither is ramming away for 45 minutes.
Plus, since the key to women's pleasure isn't penis-in-vagina intercourse but direct clitoral stimulation, penis size is far less important than the skilled use of fingers and tongues, or knowledge of sex toys. Plus, it could be duration of the foreplay that matters most anyway. 
Not all women enjoy oral sex — giving or receiving.  
While it's probably not surprising that not all women enjoy giving blow jobs (though some do), what may be more surprising is that receiving oral sex doesn't do it for all women either. As Gabrielle Moss wrote for Bustle, "It simply doesn't do anything for me... Some of us just don't respond physically to the subtle physical pressure provided by oral sex." 
Don't take this as an excuse not to reciprocate, but do understand that even if your technique is good, not every move will pleasure every woman. It's not a personal insult but rather a personal preference — just one of many that you don't always see in porn. 
Use different strokes for different folks (literally). 
When stimulating the clitoris, for example, research has found that women are most likely to reach orgasm with a diagonal stroke. However, different women have different preferences. You can trace circles around the clit, rub it with any variety of fingers, stroke it over underwear or even experiment with tapping or gentle flicking. 
Once you find the stroke that your partner enjoys most, keep the pace and pressure steady. While men often speed up or thrust harder closer to orgasm, women usually need steady pressure to come. But ultimately, getting a woman to come might not even be the goal of the night. What is? Just ask her.
Not all talk has to be dirty. 
While dirty talk can be hot, sometimes it can feel a little silly. Moreover, dirty talk can't simply stand in for foreplay, as plenty of porn has it. Talking during sex is important, as a recent study found, but that talk doesn't have to be dirty, nor should it be — unless that's what your partner's into. 
Because when it comes down to it, communication might not sound like a sexy concept, but it's the key to the best sex. Just ask the woman you're sleeping with.