There's Now a Netflix for People Who Listen to Music the Old-Fashioned Way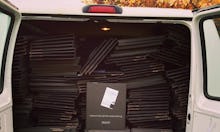 The days of walking into Tower Records and buying a CD have been gone for nearly a decade. But a new year-end report from Nielsen suggests that even paying money to download music is nearing extinction, too.
As everybody knows, thanks to Taylor Swift, streaming services like Spotify are swooping in to pick up those sales. But few people realize that there's something else on the horizon: vinyl subscription services.
Among music lovers, these services are all the rage. Like a Netflix for physical records, a new cohort of companies is supplying on-demand deliveries to subscribers and a host of immersive physical experiences. And in 2015, they're going to revolutionize the way we buy music.
Last year, we streamed 164 billion ephemeral songs. But we also bought 9.2 million vinyl records, the most since 1991, when Nielsen started tracking sales. Vinyl sales only made up of 3.6% purchased albums, but they're spurring a music lover's dream: services that merge old-school joys of buying records with new-school methods of distribution. Two services are essential for any vinyl lover — VYNL and Vinyl Me, Please.
VNYL is a Netflix for record lovers. Instead of choosing specific albums, VNYL listeners select different moods of music such as "dance party," "game night," or "rainy day." Soon after, VNYL sends a custom-picked record to suit their needs.
Once someone's done with the record, they ship it back and get the next installment of music delivered. If you really like what you get, you can keep the record for as little as $12. Part of the service also allows subscribers to comment on the records they receive, adding a social component to an otherwise secluded listening experience.
"Right now I feel penalized for not being able to share what I'm listening to and get decent recommendations on vinyl that I may be into," VNYL founder Nick Alt told Mic. "[The inspiration for VNYL] was taking some of the best parts of Beats, Spotify and SoundCloud and translating them into a tangible experience." 
Vinyl Me, Please is the perfect way to experience records. The service, which costs $23 to $27 a month, sends subscribers a record and pairs each one with a commissioned art print and cocktail recipe suited to that album's style. It's meant as a multisensory experience to get listeners to sit down and fully soak in the music, even if it's not a genre they'd be inclined to pick themselves. Each album is curated and agreed on by the company's founders as essential listening.
And it's booming in popularity. Last year Vinyl Me, Please sent out roughly 29,000 vinyl records, a huge leap considering they started with only 12 subscribers at the beginning of 2013.
"The most obvious reason for our success from an outside perspective is timing. We sit at the intersection of two large trends in vinyl records and mail subscription services," Cameron Schaefer, the company's head of marketing and label relations, told Mic. "But second, and more importantly, is the huge amount of trust we've built with our member base around music selection."
And many more are on their way. Vinyl Me, Please and VNYL have shown just how exciting this burgeoning cottage industry is, and there are a few new services coming up in 2015 with more sure to follow. Two, Wax & Stamp and Klekt, will launch in Europe this year. Wax & Stamp should debut within the next few months and will offer not just one but multiple records each month to subscribers as a point of differentiation. Klekt leans on its experts to choose high-quality vinyl of the sort listeners never knew they needed.
These services, then, are the modern face of a timeworn and noble tradition. And they represent a major return to our commitment to listening to physical music: The demand for vinyl is so high that production is struggling to keep up, with the limited number of machines that are making records on their last legs. Vinyl Me, Please, for example, missed its December album release because of manufacturing delays. Even if this isn't the future of the music industry, it's more than just a hipster trend — it's a revolution in what it means to have physical music, and it's just getting started.
Correction January 6, 2015: An earlier version of this article incorrectly spelled VNYL as VYNL and referred to its founder as Nate Alt. The founder's name is Nick Alt.