Judd Apatow's 25-Year-Old 'Simpsons' Episode Will Finally See the Light of Day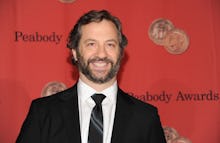 The news: It may have taken 25 years, but one of comedy's greatest minds is finally making a contribution to one of TV's best and longest-running comedies. According to an interview with TV Guide, this month Fox will air an episode of The Simpsons that a then-22-year-old Judd Apatow wrote when the now-hit cartoon comedy was just starting out. 
The episode, which will air Jan. 11 and is titled "Bart's New Friend," tells the story of when Homer gets hypnotized into thinking he's 10 years old and has "such a great time being Bart's friend that he doesn't want to become an adult again," Apatow told TV Guide. The spec script was one of Apatow's first attempts to break unto the industry.
"I was 22, a huge fan of The Simpsons, and hoping for a TV writing career," Apatow said. "At the time I was a fledgling stand-up comic and people said, 'If you want to write for sitcoms, you need to do spec scripts.' Only six episodes of The Simpsons had aired at that point but I tried to copy the style and did a spec script."
So why now? After all these years, Apatow had held on to the script and said he mentioned it at a recent on-stage interview at the L.A. County Museum, which apparently revived interest in the script that was previously passed on. Apatow said that "all these years later, [Simpsons executive producer] Al Jean calls and says, 'Hey, we'll make it now!'"
What's also interesting is that not only does this prove that you never really know what could happen in the entertainment business, but the episode should provide a peek into the mind of someone who would go on to write and produce countless comedy hits like Anchorman: The Legend of Ron Burgundy, The 40-Year-Old Virgin and Knocked Up, as well as the beloved-if-short-lived TV series Freaks and Geeks. 
Apatow told TV Guide that the episode's storyline is in many ways a symbol of the style of comedy that would eventually define much of his career.
"I have always been fascinated with how difficult it is to grow up," Apatow said. "In fact, everything I've done on film and TV is pretty much based on my Simpsons idea. I can't shake it."
Get excited. As much as some critics like to lament that the Simpson family's best years are behind them, the show has produced countless hilarious moments. With a great writing team at the helm, chances are this episode will be another in the catalog of hilarious television the town of Springfield has given us.
h/t Uproxx