Legendary ESPN and 'SportsCenter' Anchor Stuart Scott Has Died at 49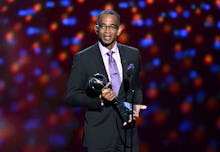 Renowned SportsCenter anchor Stuart Scott died Sunday morning at the age of 49.
The Associated Press reports that Scott had undergone "chemotherapy, radiation and surgery" after being diagnosed with cancer in 2007. He leaves behind a 22-year career at ESPN, two daughters (Taelor, 19, and Sydni, 15) and a legendary bevy of catchphrases immortalized on a wall at ESPN's Bristol studios ranging from Scott's signature "boo-yah!" to "He must be the bus driver cuz he was takin' him to school."
In a statement, ESPN President John Skipper called Scott "a true friend and a uniquely inspirational figure" and said his "energetic and unwavering devotion to his family and to his work while fighting the battle of his life left us in awe, and he leaves a void that can never be replaced."
In July at the ESPYs, Scott accepted the Jimmy V Award for Perseverance after a cancer-related surgery. "To be honored with this, I now have a responsibility to also not ever give up," Scott said at the time. "When you die, it does not mean that you lose to cancer. You beat cancer by how you live, why you live, and in the manner in which you live."
"So live. Live. And fight like hell. And when you get too tired to fight, then lay down and rest and let somebody else fight for you."
Scott also leaves behind a dedicated following of colleagues, fans and admirers, who took to Twitter on Sunday to express their profound sadness at his loss and reminisce on the lessons he taught them.
President Barack Obama also shared his thoughts on Scott, in this press release tweeted from the White House Twitter account:
In an obituary on ESPN's website, staff noted that while their grief was immense, so, too, was their gratitude for Scott's decades of insightful sports coverage. "I think the audience recognized that when Stuart was on, there was going to be something special," co-host Steve Levy said. "And to his credit, he brought something special every night he was on."