These 6 Rappers Are the Defining Voices of #BlackLivesMatter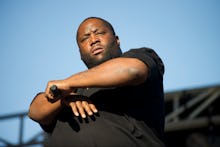 Hip-hop has changed tremendously over the years, but at its heart it is still an incredibly political art form. While #BlackLivesMatter protests have spread across the country since the deaths of unarmed black men, Mike Brown and Eric Garner, at the hands of the police, our nation has needed that political voice more than ever. Yet it's been surprisingly muted.
Rappers have been talking directly about police brutality in black communities since hip-hop began, and it's from this political legacy that we have a tremendous number of important tracks like Public Enemy's "Fight the Power," N.W.A.'s "Fuck Tha Police," KRS-One's "Sound of Da Police" and Slick Rick's "Children's Story" to name a few. But while quite a few artists have spoken out on the recent spate of police brutality, far fewer have taken the additional step of putting their activism into their bars like emcees of the past. Nicki Minaj responded to this criticism of the hip-hop community in a Rolling Stone interview with a despondent, "How many times can you be made to feel horrible for caring about your people before you say, 'Fuck it, it's not worth it, let me live my life because I'm rich, and why should I give a fuck?'" Other artists, like Questlove, are wondering where our protest songs for #BlackLivesMatter are.
There is hope, though. Although there haven't been nearly as many rappers making music about this critical moment for the black community as some would hope, at least six rappers have released essential songs of the sort our society desperately needs.
Tef Poe
Tef Poe is a St. Louis-area rapper who is deeply involved with the Ferguson protest movement. He traveled to Geneva with the Brown family to address the United Nations Human Rights Council, has written a series of powerful op-eds and was arrested during Ferguson protests in October. In November, he released his "War Cry," which he describes as his Missouri Governor Jay Nixon "diss record." In addition to calling out seven public officials on the track, he also discusses how sexism leads to the silence surrounding black female victims of police brutality (like Kim King) and gives a shoutout to black lesbian and transwomen as well.
Tef Poe ends his blog post about "War Cry" powerfully, stating: "I did this for Saint Louis and the countless victims of police brutality. This is my war cry, and I sincerely pray someone hears me before it is too late."
TINK
Source: Soundcloud
TINK is an up-and-coming rapper from Chicago who has been making quite the buzz with her mix tapes.  Fourteen hours after the non-indictment of Darren Wilson, as many people were looking for a song to capture how they felt in that moment, TINK released "Tell the Children." The song at its heart is a protest record that directly confronts many of the frustrations and feelings in the black community. On it she poignantly raps, evoking Dr. King:
"King died for us niggas living in poverty / 50 years later we still don't have equality, it bothers me / A badge is a pass to do whatever / So now we living in fear of the people here to protect us / Yo, they lie and disrespect us, kill us and then neglect us / The problem when nobody sees the view from our perspective."
Run the Jewels
Over the last few months, Killer Mike of Run the Jewels has been one of the leading voices in the hip-hop community speaking out about Brown's murder. On the night of the grand jury decision, Run the Jewels was slated to perform in St. Louis. But before starting their live set, Killer Mike delivered a powerful, heart-felt reaction to the non-indictment that subsequently went viral. 
Though they haven't released new music since the non-indictments, Run the Jewels make fundamentally political music. They wrote "Early" in collaboration with Beyoncé muse Boots. The song is both powerful and haunting. In the lyrics, Killer Mike raps about a scenario where his wife gets killed by the police, and El-P, the white member of Run the Jewels, responds by discussing his privilege as a white bystander who, at the end of the day, gets to go back home and sleep, even as tragedy unfolds for Killer Mike's family.
Lil Herb
On the "Fight or Flight" remix, Lil Herb is joined by Common and Chance the Rapper. The three Chicago natives rap powerfully about growing up and surviving as black men in that city. The video for the song features striking visuals as well, including images of Mike Brown and footage from Ferguson. Lil Herb's lyrics on the track are especially cutting, though, as he discusses his despondency about the racial profiling he faces at the hands of the Chicago police:
"And it's hard for a young, black niggas like myself / Where the police compare oneself with everybody else / So that means if you yourself they think you're everybody else / So I don't care 'bout no one else / Just my family and myself / Yeah, that's just my way of thinkin' / In my city and it helps cause no one gives a fuck / About me, you, or nobody else." 
Ceebo Tha Rapper
Ezell Ford was a mentally ill unarmed black man who was shot and killed by the LAPD around the same time as Brown. Ford's murder in south L.A., however, has not generated nearly as many national headlines. Ceebo Tha Rapper, one of Ford's cousins, was determined to change that and bring Ford's case to light through his music. To this end, Ceebo released not one but four powerful tracks calling out the LAPD for his cousin's murder: "Fuck Tha Police," in homage to the N.W.A. song by the same name, "Mr. Officer," "I Get Out" and "They Don't Care About Us." 
Ceebo's music and activism, which had placed him at the forefront of the struggle for justice for Ford, has now been cut short prematurely, though, as he was recently sentenced to 17 years in prison on contested charges, leading to the hashtag campaign #FreeCeebo.
J. Cole
A few days after Brown's murder, J. Cole released one of the most powerful songs of the year with "Be Free." He dedicated the song to "every young black man murdered in America," and in many ways the words he penned, more than any other song, captured how much of the black community felt immediately after Brown's death.  On the track, rather than rapping, Cole chose to sing, mournfully repeating: "All we wanna do is take the chains off. All we wanna do is be free." The track has had enduring power as a rallying cry for #BlackLivesMatter, particularly in the wake of the Eric Garner grand jury decision. Despite the fact that his dedication ignores the fact that black women are also victims of police violence, the song is still incredibly powerful. Coupled with Cole's personal outreach in Ferguson, this has confirmed him as one of hip-hop's leading voices for #BlackLivesMatter.
Here's to hoping that in this new year even more emcees step up to the plate and follow the example set by these six brave rappers. The #BlackLivesMatter movement is continuing to gain steam across the country, and as Questlove says, we need appropriate protest music to go along with it.