Boston Marathon Bombing Trial Begins With Jury Selection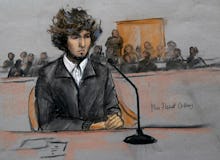 After more than 18 months, the trial of Dzhokhar Tsarnaev is finally underway.
Tsarnaev is accused of detonating a pair of homemade bombs amid a crowd of thousands of spectators at the annual Boston Marathon's finish line on April 15, 2013. He has pleaded not guilty to all 30 charges against him.
Jurors, selected from a pool of approximately 1,200 candidates, will decide whether Tsarnaev planned and carried out the twin bombings that killed three people and injured more than 260 near the finish line of the race. In total, over 3,000 people received summonses. Tsarnaev's lawyers have attempted to get the trial moved for months, arguing that the Boston jury pool "was tainted because of the number of locals with connections to the race."
Tsarnaev's defense team has reportedly been making overtures to prosecutors seeking a plea deal that would allow their client to plead guilty in exchange for a life sentence. A September 2013 Boston Globe survey found that 57% of Boston residents supported a life sentence without parole for Tsarnaev, compared to 33% who supported the death penalty.