Washington's New Mayor Is Standing Up to Congress on Legal Marijuana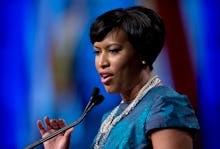 Despite the fact that Congress closed out 2014 by quietly ending the federal government's war on medical marijuana, everyone's least-favorite legislative body kept Washington, D.C., from actually enforcing the marijuana legalization voters overwhelmingly approved in November.
"Congress basically said no," Todd said. "Are you going to challenge Congress on that?"
The background: More than 70% of district voters approved a ballot initiative in November that legalized recreational marijuana in Washington. Initiative 71 would allow possession of up to 2 ounces of pot or up to three mature plants for personal use.
"It is disheartening and frustrating to learn that once again the District of Columbia is being used as a political pawn by the Congress," said D.C. council member at large David Grosso. "To undermine the vote of the people — taxpayers — does not foster or promote the 'limited government' stance House Republicans claim they stand for; it's uninformed paternalistic meddling."