If You've Been Feeling Extra Popular on Online Dating Lately, There's A Good Reason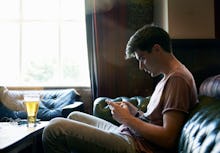 If you needed proof that New Year's resolutions are real, you probably could have found it on OkCupid/Tinder/JSwipe/Hinge Sunday night.
According to data from Match.com and Mashable, the first Sunday in January is the year's busiest night for online dating — and activity peaks at 8:52 p.m. Eastern time. The first week of January alone is predicted to see 2 million users logging onto Match.com, the site said, with traffic reaching its highest numbers Sunday night. 
PlentyofFish also said it was expecting its biggest traffic night, according to Mashable. And dating site Clover, a sort of OkCupid/Tinder mash-up, reported a 300% increase in sign-ups in December from people in relationships in anticipation of a busy, newly single January.
And all of that activity can bring actual results: Match.com found that users are 15% more likely to meet someone in January compared to any other month. As Mic previously reported, that could be due to a high rate of breakups in December around the holidays. (Yes, there were a few people who weren't getting engaged last week). 
But it could also be that people are getting off their butts with one of their first New Year's resolutions, whether it be to put effort into finding a relationship or to, erm, get laid more. After all, data has shown that online dating usage remains high through around Valentine's Day, tying the peak to the beginning of the year, just like the peak in new gym memberships.
Which means that if you missed the Sunday night rush, there's still hope. You've got until Valentine's Day to ride the online dating wave and take advantage of more options than ever.
Or, you know, you could pursue your other New Year's resolution: 
h/t Mashable