Genius Russell Crowe Has Finally Figured Out Who's Causing Hollywood's Sexism Problem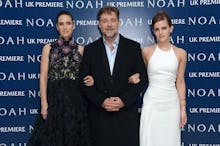 The women.
In a new interview with the Australian Women's Weekly, Russell Crowe claims that he believes that Hollywood's well-documented history of gender discrimination is a myth made up by delusional older women who can't act their age. In fact, the "Gladiator" star said he believes the industry doesn't suffer from ageism at all. The real problem, according to Crowe, is that all female actors want to play the same role — that of the 20-something ingénue. "To be honest, I think you'll find that the woman who is saying that [the roles have dried up] is the woman who at 40, 45, 48, still wants to play the ingénue and can't understand why she's not being cast as the 21-year-old."
Citing Meryl Streep and Helen Mirren as proof that that the age bias against women is "bullshit," the 50-year-old actor goes on to explain that actors willing to "live in [their] own skin" can be successful, but those pretending to be "the young buck when you're my age" are bound to fail. 
This mentioning of Streep and Mirren is curious, however, since both women have spoken out about the pervasiveness of sexism in Hollywood. Crowe's tired excuses simply fall flat in the face of reality where women are not just paid less than their male peers, but also valued less in an industry that still struggles to accurately represent women's lives onscreen. 
The issue is not about the gender pay gap. The issue here isn't just one of rehearsing the statistically documented gender pay gap in Hollywood, which in fact exists at a greater differential than that experienced by the general population. What Crowe seems not to grasp is how sexism influences many different aspects of his profession. Female actors have a fraction of the opportunities male actors have to land a Hollywood part. According to a 2013 study, "It's a Man's (Celluloid) World: Onscreen Representations of Female Characters in the Top 100 Films of 2013," researcher Martha Lauzen found that "females comprised 15% of protagonists, 29% of major characters and 30% of all speaking characters."
Young forever: Crowe complains that all female actors, regardless of age, want to play the ingénue, and that if they only "lived in [their] own skin" they'd be more successful. But this argument glosses over the fact that most roles for women in Hollywood films are for that single type. "Female characters remain younger than their male counterparts," Lauzen writes. "The majority of female characters were in their 20s (26%) and 30s (28%). The majority of male characters were in their 30s (27%) and 40s (31%)." For guys over 40 like Crowe, 55% of all male characters on screen are for guys who are his age or older. If he were a woman, the number of roles offered to him would drop dramatically.
And, as Vulture showed in a eye-popping series of graphics, this statistic is illustrated by the fact that no matter the age of the male character on the screen, his female love interest will likely be decades younger than him. 
And white, too: Forget it if you're a woman of color. A whopping 73% of all female characters, Lauzen reports, were Caucasian. Crowe's white male privilege means he doesn't even have to consider issues like this when it comes to his career. 
This means that for every Meryl Streep, there's an Amy Adams. Crowe attempts to use the highly touted actor as as a token to discredit gender discrimination against women altogether because she has played critically acclaimed roles at, it seems, every age. But here's the catch: Because of institutional forms of sexism that require women to work harder for success than men, it takes them longer to attain career success. Therefore, it's not Meryl Streep who represents the typical career trajectory of a successful female actor; it's Amy Adams, who struggled to find substantive and consistent work throughout her 20s and early 30s but finally achieved continued commercial and critical success as she turned 40. 
This latest example of Hollywood sexism deserves a decisive thumbs-down. Time will tell if the abundance of parts being offered to her will continue through the next decade. What we do know for sure, however, is that despite what Crowe would like to think, overwhelming evidence proves Adams' success does not depend on her own comfort with her age.