Meet the Powerful Union Boss Leading the NYPD's Public Revolt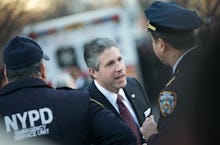 With New York Police Commissioner William Bratton by his side, New York City Mayor Bill de Blasio on Monday declared at a press conference that his plans to create "a safer and fairer city" would not be derailed by "the loudest and most disrespectful voices" to emerge during an increasingly fraught standoff with police union leaders leaders. 
Two days earlier, hundreds of New York Police Department officers again turned their backs on the mayor, ignoring requests from Bratton and the family of slain officer Wenjian Liu that the protests be put on hold while the city honored their colleague's memory.
"A hero's funeral is about grieving, not grievance," Bratton wrote in a memo blasted to NYPD precincts late Friday, fearing an encore of the scene-stealing displays from outside the funeral of Officer Rafael Ramos last week. Those demonstrations, he said, "stole the valor, honor and attention that rightfully belonged to the memory of Detective Rafael Ramos' life and service."
Despite the commissioner's plea, Saturday's services were marked by the same stone-faced belligerence first seen outside the hospital where Liu and Ramos were pronounced dead after being ambushed and killed on Dec. 20. And leading the way was the same powerful and increasingly desperate union leader, Patrolmen's Benevolent Association president Patrick Lynch.
Lynch's spiral: Surrounded by grim-looking lieutenants, Lynch, with his booming voice and slicked-back hair, is equal parts spokesman and chief negotiator for thousands of rank-and-file city police. After 16 years on the force, he swept into the PBA leadership in 1999 after a corruption scandal and subsequent failure to win a pay raise from then-Mayor Rudy Giuliani took down his predecessors. 
In Lynch's first decade running the shop, the Queens native made a habit of running face-first into every NYPD controversy. When Bruce Springsteen released his "41 Shots," a song about an unarmed black man who was cut down by police as he reached for his wallet, Lynch declared it an "outrage that [Springsteen] would be trying to fatten his wallet by reopening the wounds of this tragic case at a time when police officers and community members are in a healing period."
After Eric Garner was killed by NYPD Officer Daniel Pantaleo in July 2014, Lynch said he "felt badly that there was a loss of life, but unfortunately Mr. Garner made a choice that day to resist arrest."   
But more important than any public pronouncement, Lynch did the job behind closed doors. He got his cops paid — compensation rose 55% between 1999 and 2010.
No contract: Since that last deal expired in 2010, the PBA, which represents an estimated two-thirds of NYPD officers, has been working without a contract. Salaries have been effectively frozen for more than four years. Lynch wants a new deal and more than $530 million in back pay for his constituents. City Hall, first under former Mayor Michael Bloomberg — called a "liar" by Lynch after an earlier round of talks in 2011 – and now with de Blasio in charge, has steadfastly refused his demands.
Then, in early December, came the hammer blow. De Blasio struck a surprise series of deals with eight uniform unions. The United Federation of Teachers, which had been fighting alongside the PBA, pulled in a 10% raise over the coming seven years. Another police union, the Captains Endowment Association, also settled on a new contract. The PBA and the Sergeant's Benevolent Association, which has also blamed Ramos and Liu's killings on de Blasio, were both left in the cold. Binding arbitration awaits.
Changing the game: Lynch is up for reelection this spring. He is, for now, running unopposed. But the PBA's inability to secure a favorable contract could hatch a significant threat to Lynch's presidency. With that in mind, he sought out a wedge. Two weeks after the contract mess, he got it — a pair of officers shot by a gunman who had, hours before running up on their patrol car, wounded his girlfriend in Maryland, then posted on Instagram his plans to come to New York City and "put wings on pigs."
Standing outside Brooklyn's Woodhull Hospital, where the officers had died hours earlier, Lynch squared up the cameras. 
"There is blood on many hands, from those that incited violence under the guise of protest to try to tear down what police officers did every day," he said. "That blood on the hands starts on the steps of City Hall in the office of the mayor."
SBA president Ed Mullins (who has also failed to secure a contract with the city) responded on Twitter. "The blood of 2 executed police officers is on the hands of Mayor de Blasio," he wrote. "May God bless their families and may they rest in peace."
Endgame: In the two weeks that followed, the NYPD has engaged in an unprecedented work slowdown, "arresting less than half as many people and writing more than 90% fewer summonses than in the same period a year ago," according to the New York Times. 
Ironically, this has been a boon to some of New York City's poorest communities, which are disproportionately targeted for ticketing and summonses, a neat trick employed by Democrats and Republicans to pad the city's revenue. But from Lynch's vantage point, it's a much simpler equation: By choking off funds to City Hall, he is testing de Blasio's political resolve. 
The "apology" the PBA says it is seeking now is mostly an afterthought. Lynch has shown — many would say overplayed — his hand. These protests, from the booing and hissing at a police academy graduation to the repeated shows of disrespect to the city's civilian leader at officers' funerals, have raised the stakes. Anything less than an unlikely total victory would mean Lynch's political demise. For New York City, that is a very dangerous proposition.