Traveling Just Became a Whole Lot Easier for Musicians — Especially Guitarists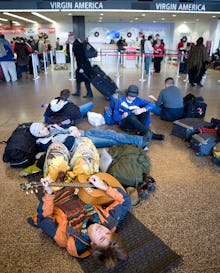 Flying is a nightmare for most people, but for musicians — and especially guitarists — it is truly hell. That is, until now.
Responding to calls from scores of disgruntled musicians, the Department of Transportation has finally stepped up to make the process a bit easier.
Starting next month, the DOT will be enforcing new regulations that U.S. airline carriers must allow passengers to bring small musical instruments, like guitars or violins, on flights as a carry-ons. Airlines are no longer allowed to charge extra fees, or move instruments out of overhead storage to make room for other bags once they've been placed. And if instruments are too big to fit overhead or under the seat, like tubas or cellos, airlines must allow musicians to buy an extra seat to store their instrument. In short: Musicians win.
For years, guitarists traveling with instruments have suffered high checked bag fees only to risk their livelihoods at the hands of careless baggage handlers or turbulence. When carrying on, it's anyone's game when you reach the gate: Your instrument's path to your destination depends on the crowdedness of the flight and the mood of the gate-checker. No set country-wide policy has standardized how to deal with instruments. And behind weapons and drugs, musical instruments have long been one of the riskiest and most difficult items to try to bring on an airplane.
"During the past year, the department has been engaged in dialogue with musicians, as well as representatives of airlines and industry associations, to address the difficulties musicians face when traveling by air with musical instruments," said the DOT in its briefing. "Several members of various musician organizations described problems that musicians encounter when traveling by air with their musical instruments."
Musicians have been describing these problems for years in public forums. Guitar Player recently shared a video created by songwriter Dave Carroll called "United Breaks Guitars." In the song, he shares how in 2009, United's baggage handlers broke his Taylor guitar. Fifteen million people have watched the video, and it's had a powerful impact on his career. The video got Carroll interviews on CNN and The View. According to Carroll (who is not an economist), it caused United's stock to dip 10%, losing $180 million in value.
Last year, Time for Three, a classically trained string trio, also used social media to air their grievances with US Airways. The trio refused to store their instruments in cargo holds, and consequently were barred from boarding. In protest, the musicians stood on the tarmac playing Bach to airline employees. 
"We gotta fight this!" one of the members says in the video they made documenting their experience. "This is wrong!" 
US Airways eventually resolved the matter and put the musicians on a later flight, blaming the confusion on a "disagreement over policy."
Fortunately, the DOT has spoken, and musicians will now have the same freedoms as any other passenger to enjoy a tolerable flying experience. And for touring musicians, this is an end to one of the persistent nightmares of their careers.
Finding the space to store guitar cases and other relatively large instruments in those cramped overhead bins is still an issue, so the DOT encourages musicians to try to board early to ensure they can find space. They may have to pay a little extra for priority boarding. But it's to better than getting stuck out on the tarmac trying to drown out all those engines.
h/t Guitar Player